[Update: Chef Blake Joyal is no longer heading the kitchen at Screen Door and they've changed the menu significantly since this post was written.]
In Charleston, it seems like new restaurants are popping up every other week. You'd think that would mean that I'd be bored or jaded by restaurant openings; but you'd be wrong. One new restaurant that I've been really excited for is Chef Blake Joyal's new venture, The Screen Door on James Island.
It's taking over kind of a cursed location (I think it's been 2 or 3 different restaurants in the time that I've lived here). I was lucky enough to be invited to a preview party for Screen Door to taste some of the dishes and drinks that might make the menu and see the newly remodeled space.
Everyone was super friendly from the moment we walked through the door until the moment we tapped out, too full for even one more delicious morsel. When we first walked in, I was struck by how open the space is. I loved the way the pizza and grill area were viewable from basically anywhere in the restaurant, as it immerses you in the whole experience.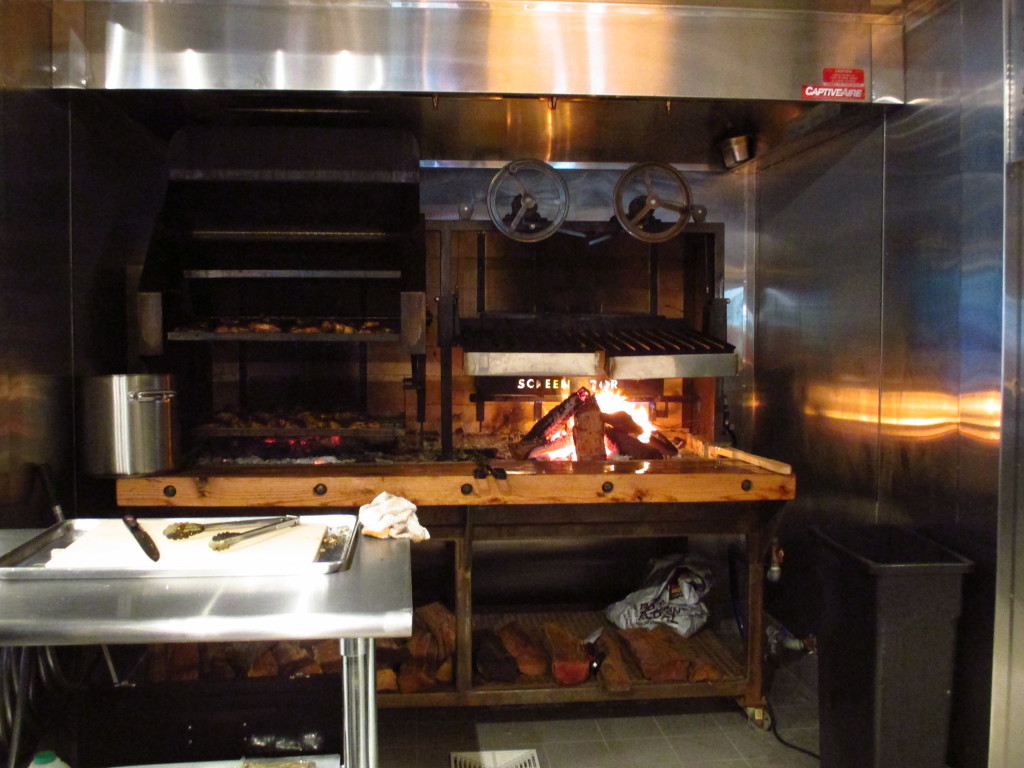 I also am a huge fan of the ambience. They really went all out with the "screen door" theme, from the giant screen door hanging from the ceiling, to the many screen doors that make up the patio area.
Because the menu wasn't completely finalized when we were there, there is a chance that not everything I tried will end up on the menu when they actually open, which will be a shame, because it was all delicious.
I'll go in order of my favorites:
Lettuce Wraps
Slow cooked pork butt, housemade curry, daikon radish, sumac, roasted peanuts. When I first bit into the lettuce wrap, it actually took my breath away with how good it was. I loved that it was kind of peanut-y and the curry was actually a great complement to the pork. I could eat these all day long.
Oysters
Local Ace blades with toasted curry, fennel butter with borate & fennel pollen. These might be my new favorite oysters anywhere, including Leon's.
Lamb Ribs
Dry rubbed lamb ribs, braised in duck fat with chimmichuri. These melted in your mouth. I had no idea they were lamb until I asked about them. I highly recommend these.
Roasted Chicken
Fresh turmeric, garlic, chili rubbed and brined sous vide for 36 hours. The chicken was wonderfully juicy and had a great smoky taste from the grill. It was awesome.
Beef Sliders
House-ground wagyu chuck brisket and short rib with grayson grease, caper aioli, and bacon. These were like an amped up burger. Perfectly juicy with an element unlike any other burger I've ever had, likely from the caper aioli.
Shrimp Skewers
Blackened shrimp with compressed, pickled watermelon, black olive tapenade, fava beans, pistachio vinaigrette, and toasted pistachio. The pickled watermelon had a crazy consistency; I actually thought it was tuna at first. I think this one was the craziest mixture of flavors, but they combined really well. I never would've thought to put these things together, but I guess that's why I'm not a chef.
Soft Shell Crab
Tempura fried with papaya noodle salad, toasted rice, fish sauce, lime, chili, and cilantro. This probably would've ranked higher if I was a bigger fan of soft shell crabs. The flavor of the dish as a whole was great—I loved the tangy sweetness of the papaya salad—was great. It's just the crab that I'm kind of weird about. However, I think if softies are your thing, you would've been very happy!
Pizza
White anchovies, fulian oregano, buffalo mozzarella, poached farm egg. I think I would've liked this a lot more if it was sans anchovies. The anchovies made the pizza really salty, which wasn't my favorite. But everything about the pizza other than that was great, so I'm really looking forward to what other pizzas they're going to have.
There are 5 signature cocktails at Screen Door which were created by their head bartender, Matthew McGarry. Because I'm nothing if not thorough, I decided to try each one of them FOR SCIENCE and I'll rank them below:
Mother of Dragons
Ingredients: Pineapple, jalapeno rum, orange blossom water, strawberry calamansi syrup, aromatic bitters, with a grilled pineapple skewer.
My favorite of the 5 cocktails. It was just a little sweet and had just the right amount of kick on the back end. I was expecting it to be a lot spicier, but it was very subtle, which I appreciated because I am a wimp when it comes to that sort of thing. This I will definitely be ordering again.
Zinfandel Wine Punch
Ingredients: aperol, lemon juice, cava, zinfandel agave, orange zest,
This drink tasted like summertime to me. Had a little bit of a wine taste, but there was more of a fresh fruitiness to it that made me wish I was lounging poolside somewhere. Bring your own drink umbrella for this one.
Pacific Rim Coyote
Ingredients: Blanco tequila, lime juice, hibiscus agave, kaffir lime tincture, lime zest, kaffir leaf garnish
This drink tasted kind of like a margarita on steroids. None of that syrupy sweet & sour mix (thank goodness), instead focusing on the natural sweet & sour taste of the hibiscus agave and lime juice. So good.
Folly Fog
Ingredients: Earl Grey infused vodka, Orchard Pear, Pernod, Ground Early Grey, Orange half moon
This one was so unique. If you like Earl Grey tea, you're going to love this one. I liked that it was atypical and unlike anything I've ever had before. Who knew tea and vodka paired so well together?
Old Friend
Ingredients: Willet Rye, barolo chinato, aperol, cocchi di torino vermouth, kumquat bitters, expressed orange peel
I think this was probably my least favorite. It tasted not unlike an old fashioned (hence the name), which I tend to not really care for.
Now that Screen Door officially opened this weekend, I'm looking forward to stopping by and making this one of my regular haunts!
Screen Door
1271 Folly Road
Charleston, SC 29412
843-573-7200