I've always been a huge fan of chicken salad. It was pretty much my go-to lunch when I was in high school and I enjoy when restaurants take a little creative leeway with its classic recipe to create something fun and delicious. One of my new favorite spots that does just that is Chicken Salad Chick in Mount Pleasant. I went recently with a friend to give their different offerings a try, and boy were we in for a treat!
I really wanted to get an accurate feel of the different flavor combos and unique offerings that CSC provides, so we went a little crazy. I'll break down each dish one-by-one. First up: the Classic Carol, because I wanted to see how their signature original compares with other chicken salads I've had. The verdict? It was pretty tasty! A very good consistency, with an impressive amount of flavor, considering its simplicity.
I personally like a little mixture of flavors and textures in my chicken salad, so we decided to try the Cranberry Kelli (A mixture of dried, sweetened cranberries
& slivered almonds) next. We opted for the "Original Chick" combo, which included a side (we opted for the seasonal salad, made with strawberries and feta cheese. So simple and refreshing!) and a cookie of the day (which was white chocolate macadamia nut on the day we were visiting). I loved the tartness of the cranberry as it complemented the creaminess of the chicken salad, and the almonds added a nice texture change.
My dining partner took advantage of the Chicken Trio, which comes with (you guessed it) 3 scoops of chicken salads / sides. She opted for the Fancy Nancy (Fuji apples, pecans & seedless grapes), the Sassy Scotty (A zesty blend of ranch, bacon & shredded cheddar cheese), and a scoop of the pimento cheese. Of the two chicken salads, I was most impressed with the Sassy Scotty. I just really loved the combination of flavors and slight smokiness of the bacon. The Fancy Nancy was also fun, and had a nice refreshing note to it, due to the apples and grapes mixed in. The pimento cheese was also pretty tasty, especially with the buttery crackers.
For something a little different, we decided to try a sandwich combo with Olivia's Old South (A southern tradition combining sweet pickles & egg). I wasn't sure how I was going to feel about it, as I'm definitely not an egg salad fan, but this was surprisingly enjoyable! The pickles gave it a subtle sweetness and tanginess, and the egg made it extra creamy.
Finally, we tried the Jazzy Julie (A spicy mixture of cayenne pepper, bacon & shredded cheddar cheese) on croissant. I thought the Jazzy Julie tasted a lot like the buffalo chicken dip my mom makes for tailgate. It had a nice little kick to it, and I loved the combination of flavors on the flaky croissant. We tried the broccoli salad (seen in the back), which I thought was just ok. Nothing to write home about.
Finally, I wanted to try a cup of their soup of the day, which was loaded baked potato. It was super creamy and cheesy, just the way I like it. I would come back for this on its own, it was that good.
All in all, I was super impressed with the food at Chicken Salad Chick. The service was also on point, and the next time I crave chicken salad, you can bet your britches I'll stop by their Mount Pleasant location. Also, if you're a chicken salad lover like me, be sure to sign up for their Craving Credits mobile app to earn fun rewards, like free chicken salad!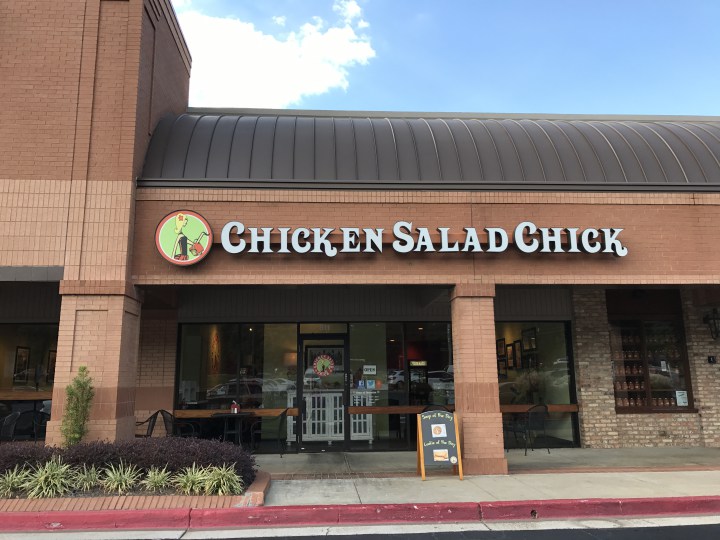 Chicken Salad Chick
280 West Coleman Blvd., Suites F&G,
Mt Pleasant, SC 29464
(843) 352-2130