I had some family friends come into town recently and felt a lot of pressure to take them to a good restaurant. So rather than risk one of my favorites failing to live up to the hype, I decided to have us all try somewhere I'd never been before so that we could all experience it for the first time together! I decided on Pawpaw because we'd been out exploring the Market and they had a reservation available for a party of our size. I had messed up in counting when I made the reservation, so we were actually 1 chair short when we were seated (hey, I'm a writer, not a math-er), but the team was super great about adding an extra table so that we could all sit comfortably.
I ordered a cocktail, the Word of Mouth (Local Hat Trick Gin, Yellow Chartreuse, St. Germain, Grand Marnier, Rose Water, Vanilla, $14), which I loved. I'm really into cocktails that are refreshing and vegetal, and this very much fit the bill.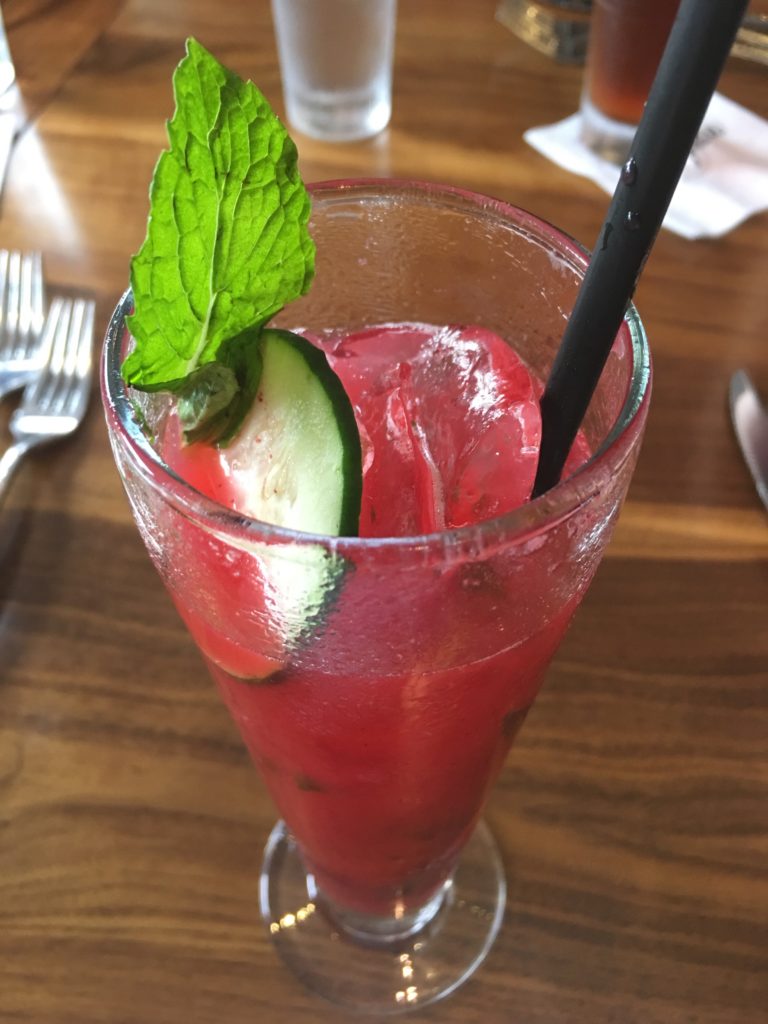 For appetizers, we started with the Truffle Fries (roasted pepper coulis, house aioli, $8.50), which were awesome. Sometimes restaurants go way too heavy on the truffle, but the balance on these were perfect. The sauces were also delicious, and I opted to keep the house aioli to dop my 2nd appetizer (Brussels sprouts) in.
The 2nd appetizer was the Brussels Sprouts (fried with parmesan cheese and chives, $8.25), which were perfecto! Nice and crispy on the outside, and soft on the inside, and seasoned perfectly. (Note that these are not on the online menu, but I just called and confirmed that they are in fact still available).
Our third appetizer was the Macaroni and Cheese (parmesan bechamel, english peas, smoked pork, cheddar, biscuit breadcrumbs, $10.95). I usually prefer simpler macs, but Pawpaw did a really good job of not going overboard with the toppings, so it was delicious. A couple of people even ordered it as their entree after trying it as an appetizer.
For my entrée, I opted for the house-made Orecchiette (farm egg, smoked pork, heirloom tomato, touch of chili, $15.95), which was amazing. The egg was cooked perfectly so that the yolk melded with the pesto and created this awesome creamy sauce that was to die for. The pasta was also cooked to perfection at al dente, and it was altogether a really pleasing dish.
My mom ordered the Chef Rogers' Recipe #88 Free-Range Fried Chicken (collard greens, potato purée, herb gravy, Nashville hot butter, $22.95) and I have to say, this is probably the best fried chicken I've eaten in Charleston. I'm not sure what they put in their breading, but it is fantastic. The chicken was perfectly juicy, the breading was super flavorful, and it was pretty much perfection on a plate. In terms of the sides, the mashed potatoes were creamy and rich and cheesy. My only complaint is that when asking for pepper vinegar to accompany the greens, the waitress looked at me blankly and replied "we have balsamic vinegar, would that work?" No. No it will not.
All in all, Pawpaw was super flavorful and delicious and a definite crowd-pleaser for a reasonable price point (especially for its location).