One of our goals for the summer is to try and cook more & post more recipes on the blog. We've been practicing honing our cooking skills by ordering Blue Apron to learn to cook with new techniques and styles. So when we were offered an opportunity to try Molli, a new brand of authentic Mexican cooking sauces available at Southern Season, we jumped at the chance to try cooking something new! We both tried the sauces and are offering our take below: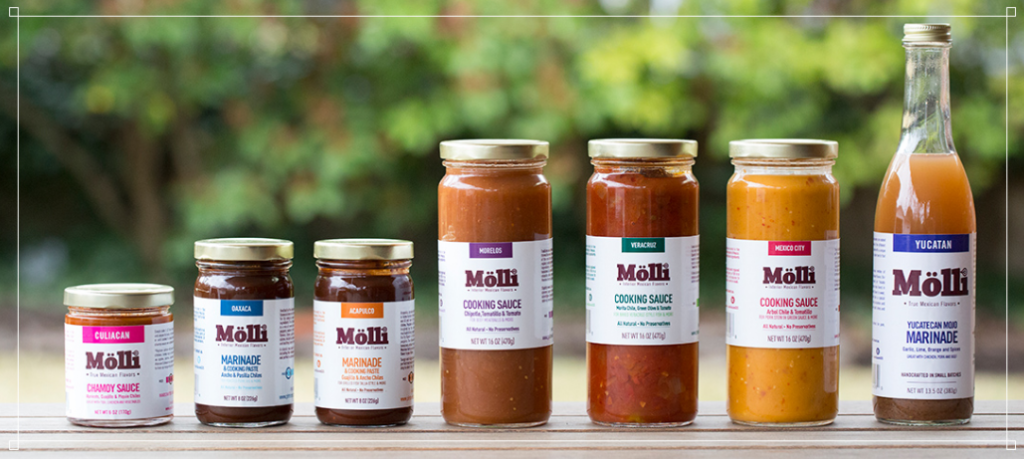 Yucatan Mojo Marinade
Dish: Grilled Pork with Fried Yucca, Tostones, and Rice & Beans
The Yucatan Mojo Marinade was described as being a "unqiue medley of European, Mexican, and Caribbean flavors." The ingredients were simple, "Water, Fresh Garlic, Lime Juice, Orange Juice, Salt, Cinnamon, and Spices." Although the website has a number of recipes available, I was really craving fried yucca, so we decided to create our own recipe. We marinated the pork overnight in the Yucutan Mojo Marinade and then put it out on the grill.
I followed a few recipes I found on Pinterest for the Fried Yucca and Tostones, put rice in the rice cooker, and opened up a can of black beans (which I added a few spices to in order to make it feel more homemade). It's the easiest dinner I've ever made.
The pork was really juicy and flavorful and I liked that there was a nice hint of cinnamon and lime juice without being overpowering. Overall, I thought it was a perfect complement to our dinner menu, and since it was extremely easy to make, I can see myself making this a lot more over the summer.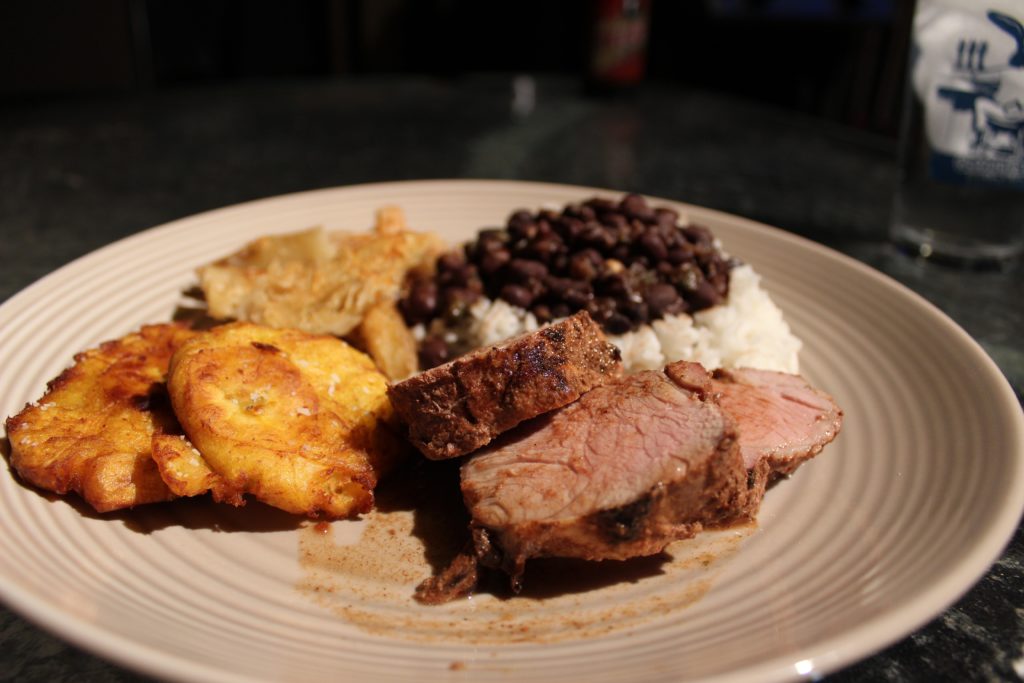 -Gallimore
Morelos Cooking Sauce
I cannot tell you how refreshing it is to read the ingredients of something and not see it wrap around the entire package. I'm excited that Molli is not only using natural ingredients, but they are also trying to stay as true to the authentic recipes. I love that each sauce/marinade comes from a certain region/area of Mexico and highlights a recipe from the area.
Dish: Beef Picadillo with Quinoa and Avocado
I cooked with the Mölli Morelos Cooking Sauce that's based off of the State of Morelos, Mexico. The recipe I made was beef picadillo and was SO easy. I used a recipe that they suggested, but I modified it a bit (I didn't have a potato and I cut it in half since I was just feeding me instead of 6).
I had it with quinoa because I didn't have any rice and I had a side of avocado because, AVOCA-DUH.
The ease of this dish alone would make me make it again. But the flavor was great, not too spicy even though it has chipotles in it. I think this dish would be great in a taco or with some eggs over it. One of the other recipes they suggest is Huevos Rancheros, which I bet would be delicious. I only used half of the bottle in this recipe, so I will definitely be using it in another recipe.
-Turnquist
Mexico City Cooking Sauce
Dish: Chicken Grillers with Spanish Rice
The Mexico City Cooking Sauce, made with Arbol chile and tomatilla was marketed as being "full of fire & spice," much like Mexico City itself. Since I was really craving a wet burrito-type dish, and I had a lot of flour tortillas that I needed to use, this seemed like a match made in heaven. We sautéed chicken and onions in a pan and then simmered them with the Mexico City Cooking Sauce for about half an hour.
Once that was done, we divvied up the chicken/onion mixture into flour tortillas, folded them up, and put them on a hot cast iron skillet and used a grill press to keep them together while it grilled. We took them off after a few minutes and topped with some of the leftover sauce from the pan, along with some cheese, sour cream, and a squeeze of lime juice. We cooked the rice in the rice maker with a jar of salsa so that it got a pretty red-orange color. I had been a little worried about how spicy the sauce was going to be, but it ended up being very mild. I actually put a little hot sauce on the burrito to spice it up a bit. Although not as spicy as I thought it was going to be, the tomatillos gave the sauce a nice citrusy and sweet flavor which worked really well with the chicken.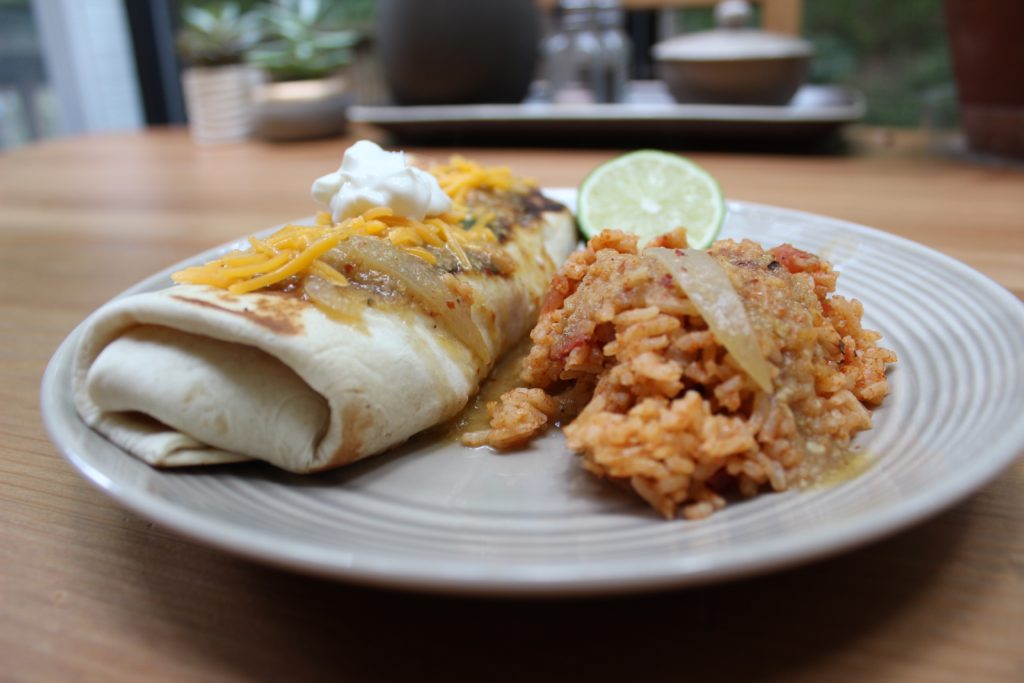 -Gallimore
All in all, we thought these sauces were a good find for making some easy and flavorful dinners. Using them as a base is a great start for a homecooked, Mexican-inspired meal. Check 'em out!
**Note: We received free product and compensation to try this product, but that does not impact the integrity of this review**