Happy April, friends and followers! Can you believe we're already a quarter of the way through 2017? Because I truly don't know where the past few weeks went. But, I digress! The reason we're here is to celebrate the kickoff of Eat Local Month! Every April, Lowcountry Local First invites everyone to focus their attention on local growers, fishermen and restaurants and inviting our community to actively engage in eating what's ripe and in season.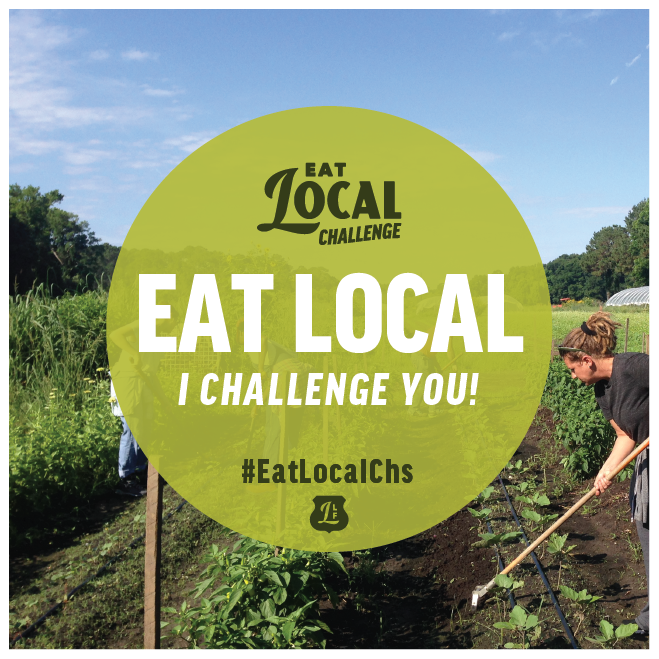 To participate in Eat Local Month, all you have to do is shift $10 (or more) of your weekly food spending towards supporting the local food system. Easy peasy. Sign up for the challenge here and LLF will give you all kinds of helpful tips and tricks. You can also check back on my blog on the reg, as I'll be giving you fun updates, recipes, and reviewing restaurants who focus on local food, to help make your challenge even easier to complete!
My Favorite Places to Buy Local Food
Blackbird Market 
Johns Island
Awesome for local veggies, meats, take-and-bake desserts (and to-die-for tomato pie), fresh baked bread, locally-made food products, and takeaway hot lunch and dinner items.
Farmers Markets
 Johns Island, Downtown, West Ashley, Mount Pleasant
Chock full of local farmers and artisans, food stands, and more. A great place to buy local produce and even hear great local musicians!
Veggie Bin
Downtown
Awesome local produce, coffee, kombucha, eggs, and more. And at amazing prices!
Stono Market
Johns Island
Stono Market has a great selection of fresh produce, and a huge supply of take-and-bake food options. Plus, the Tomato Shed Cafe is amazing for good ole-fashioned southern cooking!
Roadside Produce Stands
Various
Throughout town on the side of the road, you'll find purveyors selling (relatively) locally grown produce, and for the most part, it's all pretty great. I got some of the best collard greens ever from a lady selling them out of the back of a rusted pickup truck.
Geechie Boy Mill
Edisto Island
Yellow grits. Red grits. Blue grits. White grits. Red Peas, Farro. I could keep going, but it's all produced and sold at the little wooden shack on Edisto. They also have apparel, donuts, coffee, and a lot of locally-made food products.
George and Pink's
Edisto Island
Yes, the floor is made of dirt, but it's been there forever, and they have great local produce. You can tell that you're truly supporting people in this community when you shop here.
Harris Teeter
Various
Harris Teeter does a great job of featuring local produce and locally-made artisanal products.
You can also read my Eat Local posts from previous years, local recipes, and more local recipes by perusing my blog! Be sure to check back every week for new tips on eating locally!