I'm sure some of you out there are still feeling a bit of turkey hangover from Thanksgiving, and with less than 2 weeks left until Christmas dinner, I'm excited to share with you the recipe from Chef and Pitmaster Anthony DiBernardo of Swig & Swine.
This holiday must-have dish, bone-in smoked ham, the perfect alternative for those who over-indulged in turkey this season. Smoking the ham gives you something more like a pork roast, Anthony says, giving you extremely juicy meat with unmatched smoky flavor from that of traditional oven-baked ham.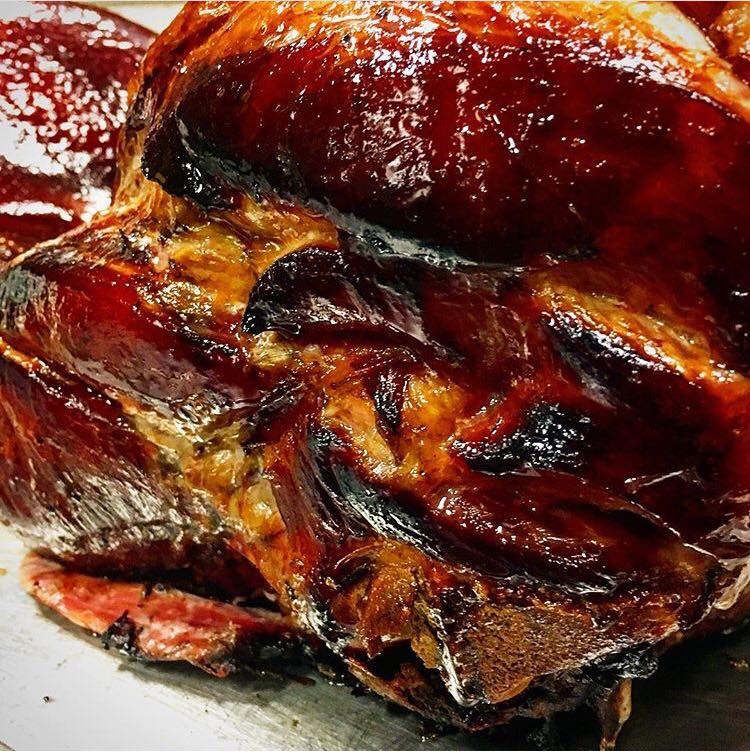 Ingredients:
1 12-16 lb. fresh ham
1/4 cup black pepper
1/4 cup paprika
1/2 cup turbinado sugar (Sugar in the Raw)
1/4 cup kosher salt
1/4 cup, plus 1 tsp. dry mustard, divided
2 tsp. cayenne pepper
2 cups chicken or pork stock
2 cups apple juice
2 Tbs. bacon fat
Pinch of ground cloves
*Serves 20
Instructions:
Score the ham skin in a diamond pattern.
Combine the black pepper, paprika, turbinado sugar, kosher salt, 1/4 cup of the dry mustard, and cayenne in a bowl.
Rub ham generously with the mixture on all sides, working it into the scores in the skin. Wrap the ham tightly with plastic wrap and refrigerate for at least 12 hours but not more than 24 hours. Unwrap and let it come to room temperature (approximately four hours) before smoking it.
Prepare a smoker to cook at 225°F with indirect heat. Place ham on smoker.
Combine the stock, apple juice, bacon fat, remaining dry mustard, and the cloves in a saucepan over medium heat. Bring to a simmer and remove from the heat. Using a basting brush, baste the ham with this mixture every hour.
Cook ham for 10 to 12 hours or until internal temperature reaches 185 to 195°F. Let the ham rest for one hour before slicing.