If your only interaction with Wasabi was the former CofC hotspot on Market Street, then you haven't really tried Wasabi. When someone first suggested dining at Wasabi in Mount Pleasant, I was a little hesitant, remembering back to my college days where the only real appeal was cheap drinks and half off rolls. The sushi at Wasabi downtown was nothing to write home about, but the experience I had at Wasabi Mount Pleasant–which is owned and operated by a different guy than the one downtown–quite literally changed the way I think about sushi. If I'm feeling melodramatic, I might even say it changed my life.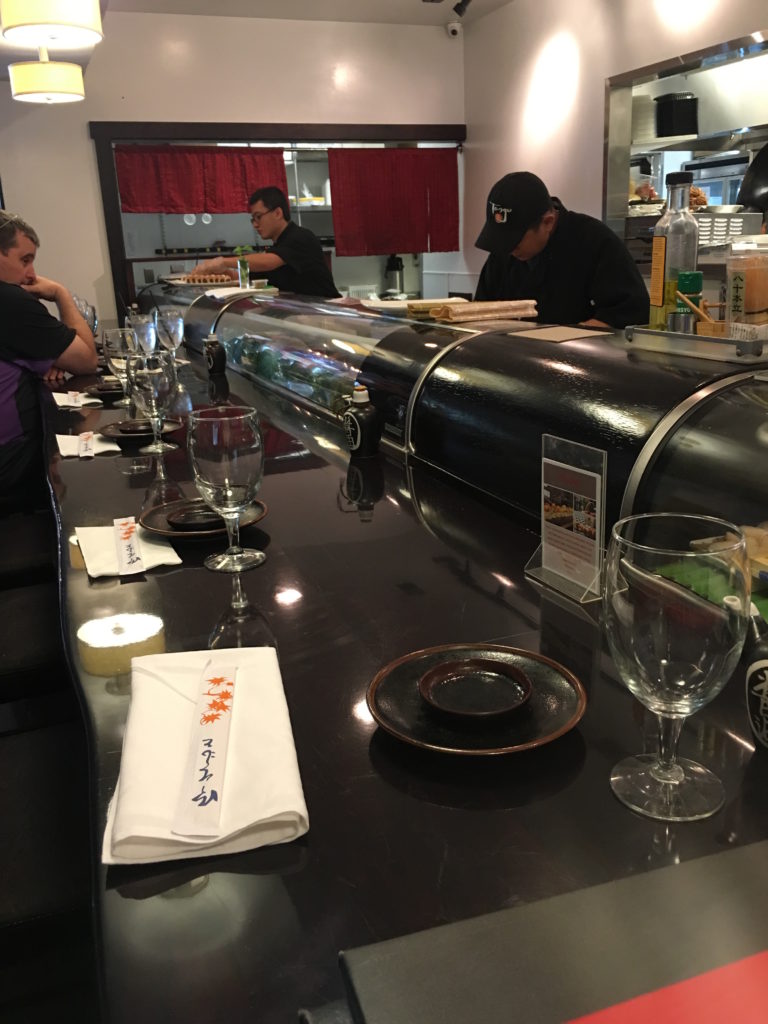 It's quite a trek out to Mount Pleasant, but trust me, it's completely worth it. I sat at the sushi counter (if you've never eaten sushi at a sushi counter, you need to change the way you're living your life), and was feeling extra hungry and adventurous and decided to go with the Omakase selection, aka the Chef's Choice (price varies from $20 – $35). Chef Johnny Chan, who was trained on the art of sushi in Japan, was working the sushi counter, so I knew I was in for a real treat. Watching him slice the cucumber with the precision of a surgeon was enchanting to watch, especially knowing that if I tried to replicate his technique at home, I'd end up needing stitches.
After I ordered my drink (sake, because duh), I was handed a warm, wet towel with which to wipe my hands. Traditional Japanese sushi eating technique is to use your hands, rather than chopsticks, so this helps clean your mitts before you start manhandling all the delicious fish coming your way.
My first course was more of an amuse bouche, using the thinly sliced cucumber as a wrapper, with fresh snow crab legs and daikon sprouts with a rice vinegar sauce. If you are used to fake crab in your sushi, the flavor of real crab will blow your mind. It's so much richer and more flavorful, and the texture is much more appealing. I also loved how beautiful this dish was. Chef Chan commented "Japanese and French cooking are very similar in that they both focus on presentation first." One glance at this plate and you'll know exactly what he means.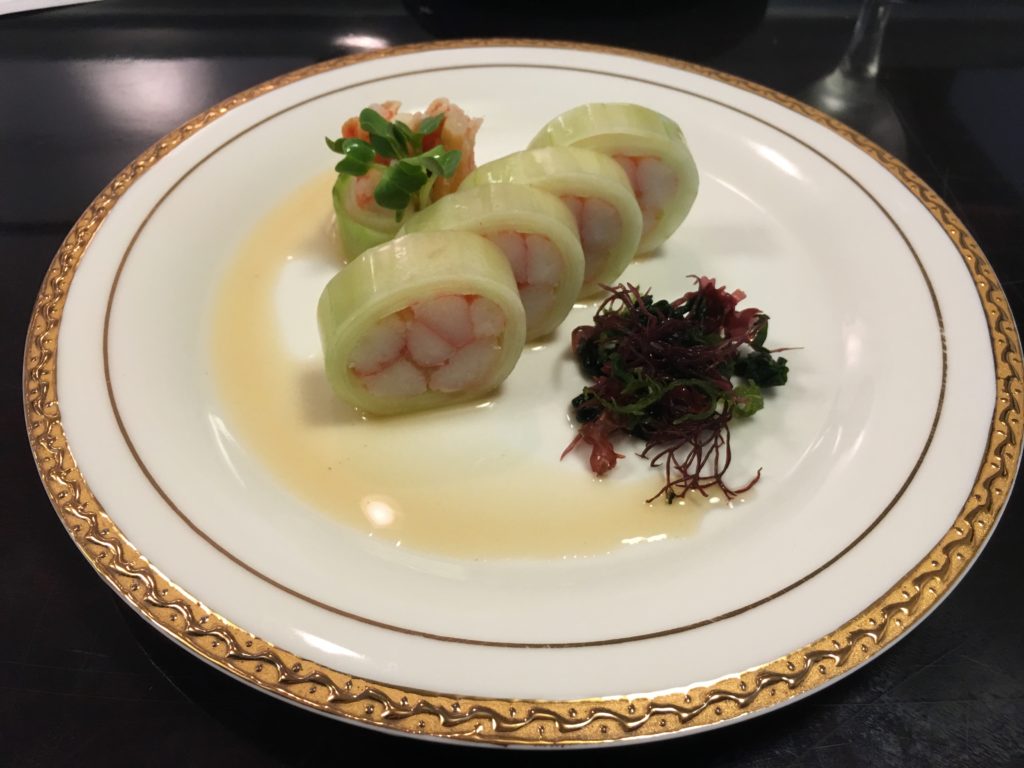 Next, Chef started preparing a plate of mixed Sashimi, which I usually tend to shy away from because I am lame. There's really no excuse other than that I am one of those lame-o's who've only ever really been exposed to Americanized sushi. Chef explained that when you go to Japan and order sushi, what you'll be served is sashimi (sliced fish) or nigiri (sliced fish over molded rice), and that the rolls we know and love here are really not as popular. I watch, mesmerized, as Chef pulled out a little fire gun to char one of the fish he served me. Each fish got its own presentation and flavor accoutrements and were like little works of art.
First, hamachi (Yellowtail) with a slice of serrano pepper.
Then marinated salmon with fresh salmon roe.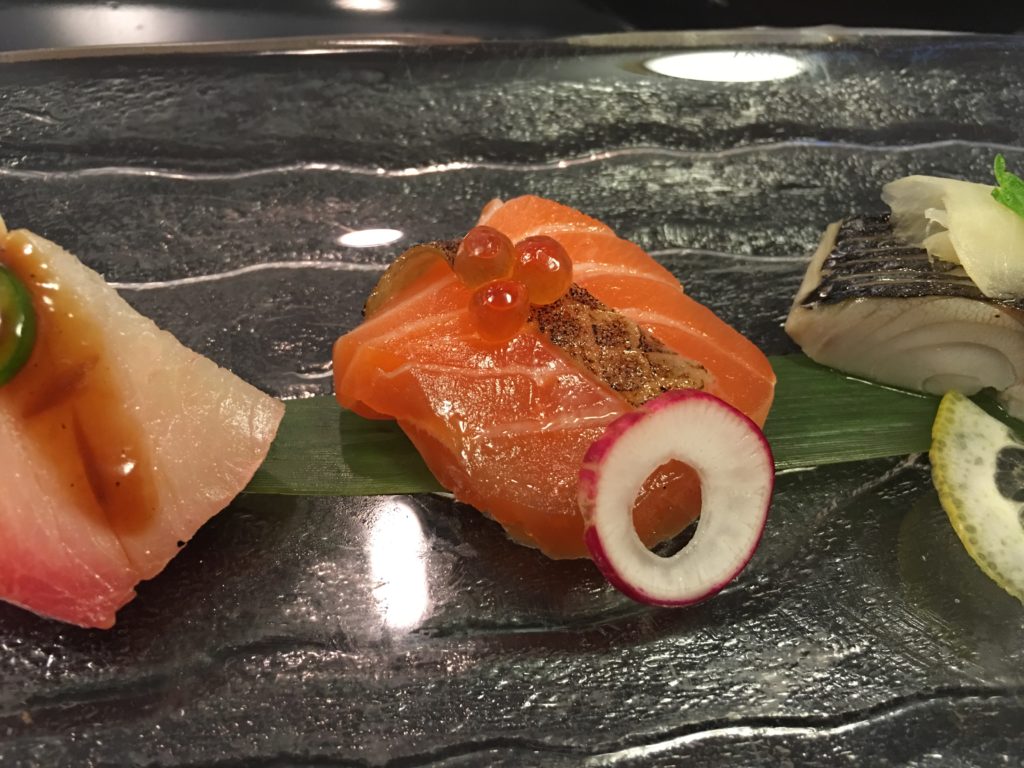 Then Saba (Japanese mackerel) with a slice of lemon and pickled ginger
Followed by Bluefin tuna (imported from Japan) with soy sauce and pickled wasabi.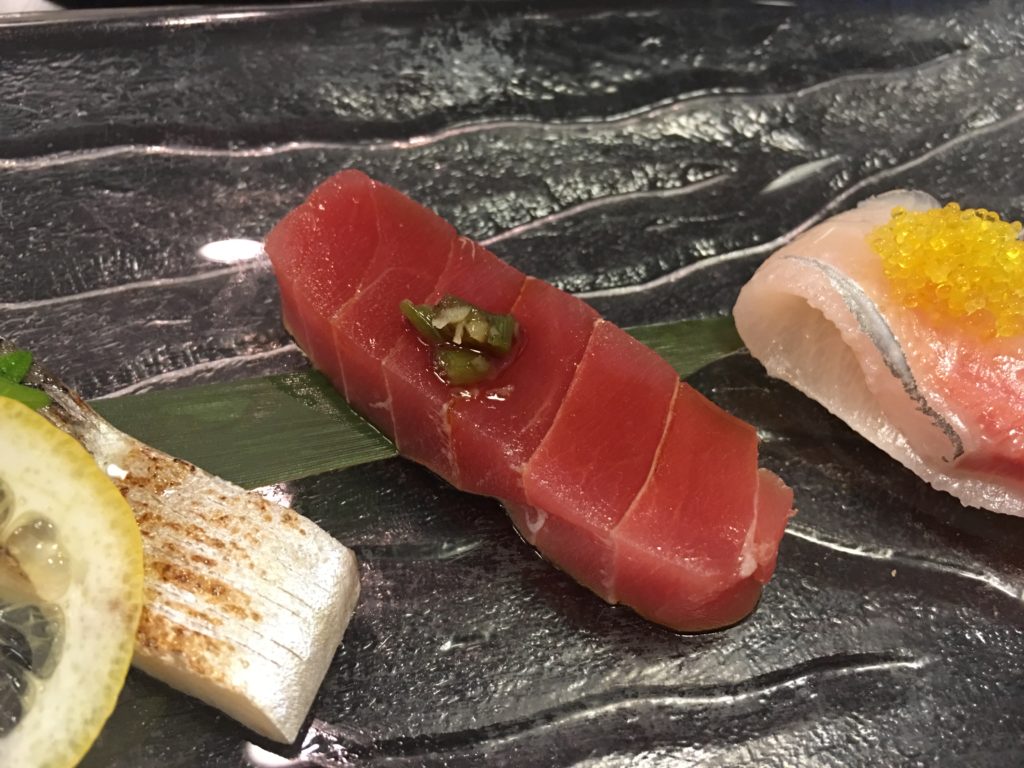 Finally, there was kanpachi (young yellowtail) with citrus sauce, flying fish eggs, green tea sea salt, and truffle oil. I think this is truly what it feels like to be royalty. Although they were all amazing and rich and full of depth, my favorite was the kanpachi, AKA young yellowtail, as it was unlike anything I've ever tasted before. It was creamy and buttery and practically melted in my mouth. The hint of truffle oil was just enough to complement the natural flavor of the fish, without going overboard. I was in heaven.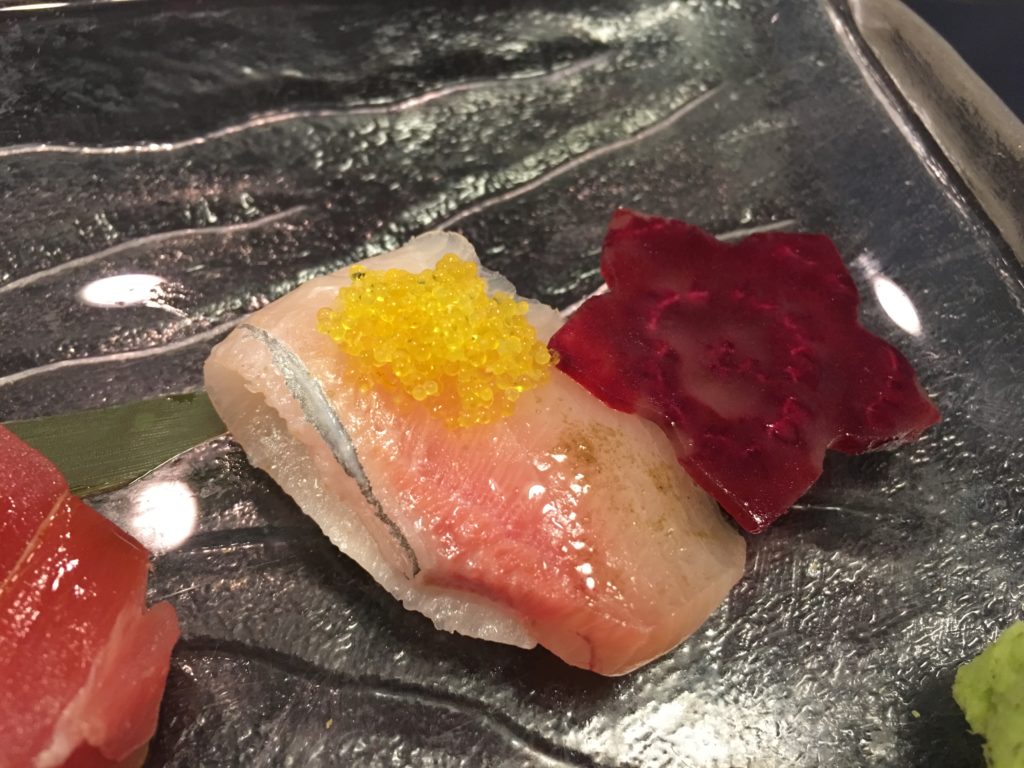 To complement the sushi, Chef also ground up some fresh wasabi root (which looks like it came from outer space). I'm not a fan of wasabi that typically comes with sushi. Chef informed me that this wasabi is usually made from a powder, with lots of flavorings, and that true wasabi doesn't taste like that at all. And he was right! Yes, it does have a bit of that clear-your-sinuses feeling we all associate with the green condiment, but this wasabi was oaky and nutty, and it doesn't linger. Now I'm a fan.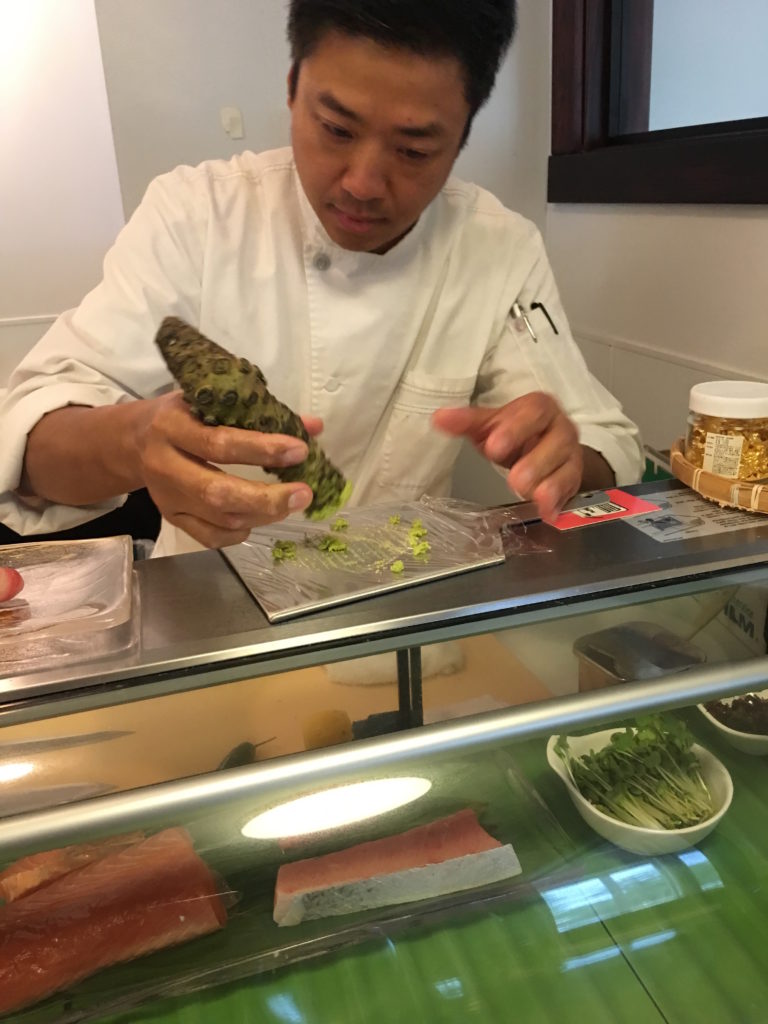 Since I'd never had uni (sea urchin) before, Chef suggested I give it a try. It was imported from Santa Barbara (Chef Chan says that the best Uni comes from Santa Barbara) and he was so excited that I was willing to try it. I went in very afraid, but his enthusiasm was intoxicating (or maybe it was the sake)… either way, I was pleasantly surprised. It was a very unique flavor; it's sweet and creamy and salty all at the same time. I have to say…it's definitely an acquired taste, though. The texture is not my favorite. It's not quite a liquid, not quite a solid. It was very perplexing. I suggest you give it a try to understand it for yourself.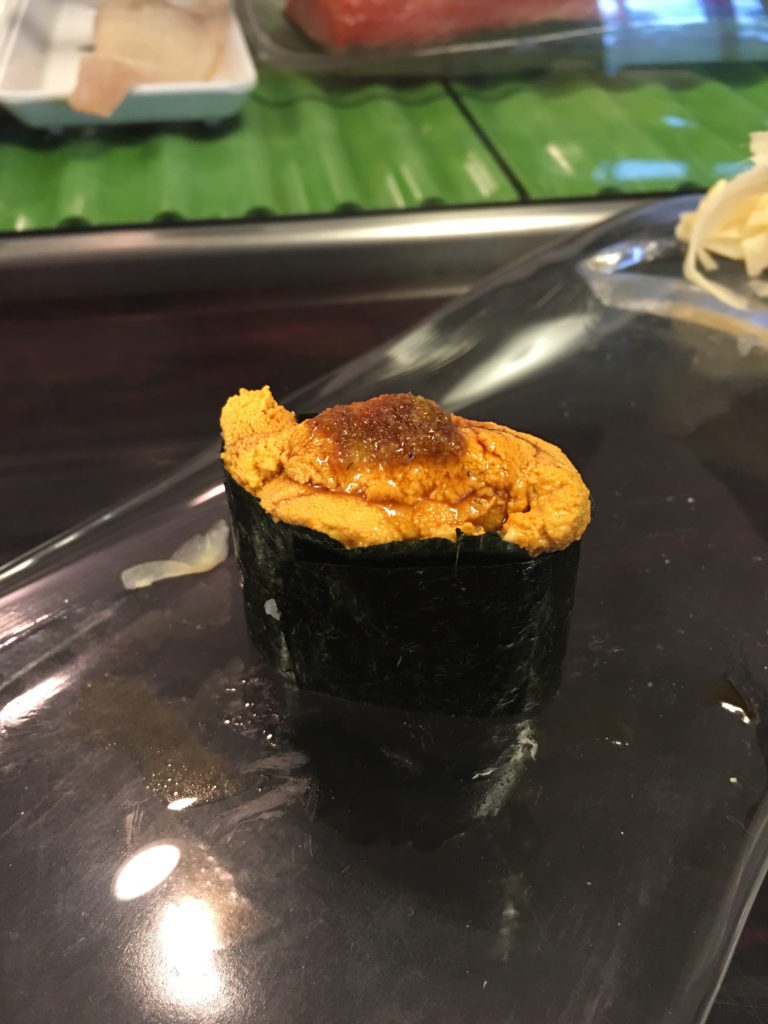 Chef had me try it again mixed with tuna and truffle soy sauce and a gold flake on a nori chip, "like a taco!" he said enthusiastically, and I was a much bigger fan of this presentation. The crunchiness of the nori chip softened the strange texture of the uni.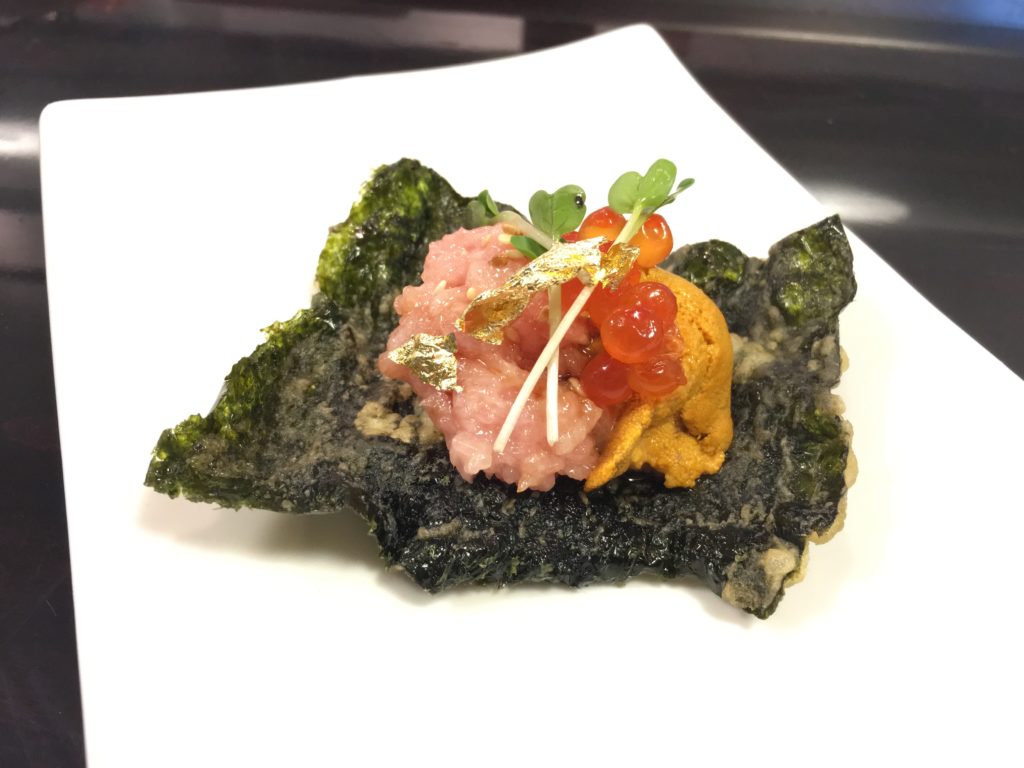 One of the things that really impressed me about Wasabi was the sushi rice. I've been to some places where the sushi rice is so dry that it sucks all the liquid out of your mouth, and you have to completely soak your sushi in soy sauce in order to palate it. Wasabi is not like that. Chef informed me that sushi rice is meant to be eaten at the same temperature as the interior of your mouth, so they keep it warm until it's ready to be served. They also put a lot of work into flavoring the rice itself, since it is the base of pretty much every piece of sushi they serve, which I really appreciate. Chef demonstrated the importance of sushi rice by serving me a few pieces of nigiri, which I was really excited about because that meant I got to eat with my hands. First, madai, aka Japanese snapper.
Next, chef got out the blowtorch again to sear a scallop (hotategai) for scallop nigiri. Scallops aren't always my favorite, but these Japanese scallops were amazing. Plus, I like it when they're a little more on the raw side, and the char from the blowtorch gave it a nice smokiness.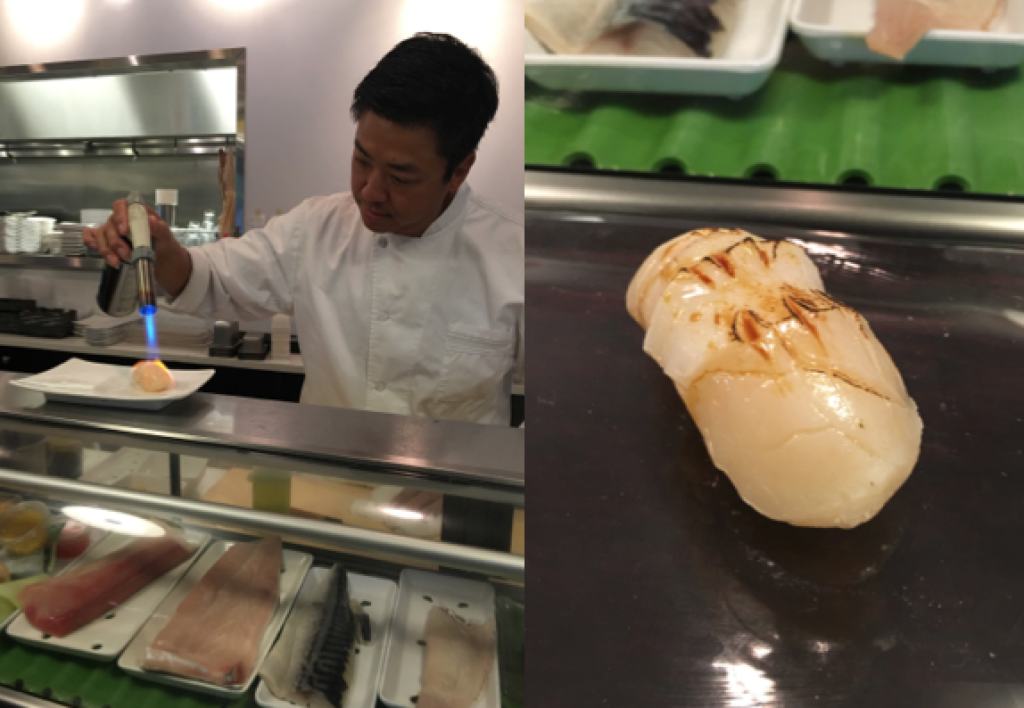 Perhaps one of my favorite things Chef made for me, was the salmon belly. It was sinfully rich and flavorful. I wanted to cry when I was eating it, it was so good. It doesn't have that typical salmon flavor, it was something else entirely. I'm getting wistful just thinking about it.
The kanpachi, aka young yellowtail, was equally delicious over rice, and still rich and flavorful, just not as flavorful as the salmon belly.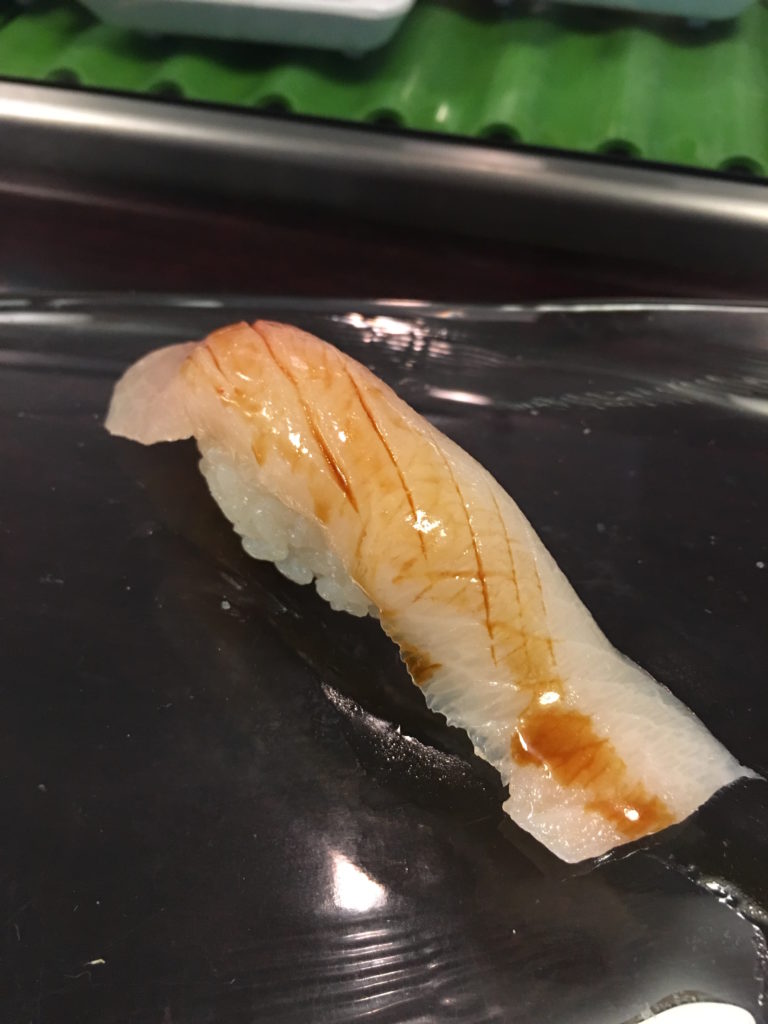 Since he knew my obsession with tuna, he also threw in a piece of bluefin tuna nigiri. Blue fin tuna is a classic. You can't go wrong.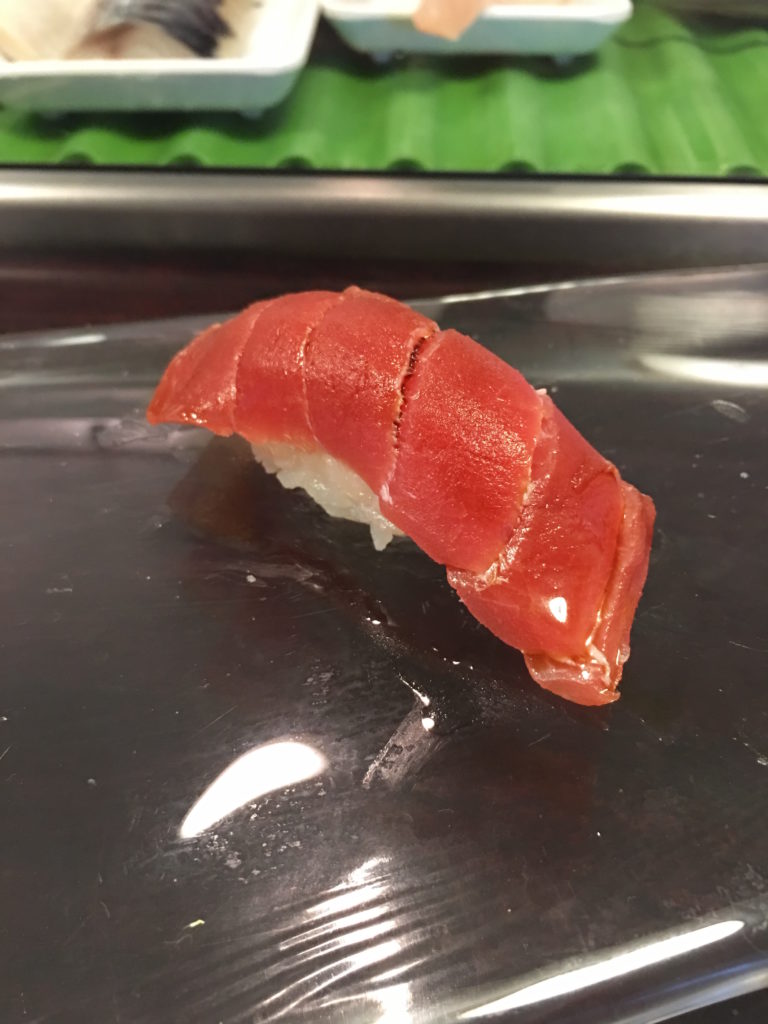 To continue my tuna education, Chef excitedly prepared two versions of the same piece of fish, Toro, the belly of the bluefin tuna. The first was prepared normally, with just a little soy sauce, which just melted in your mouth. It was fantastic.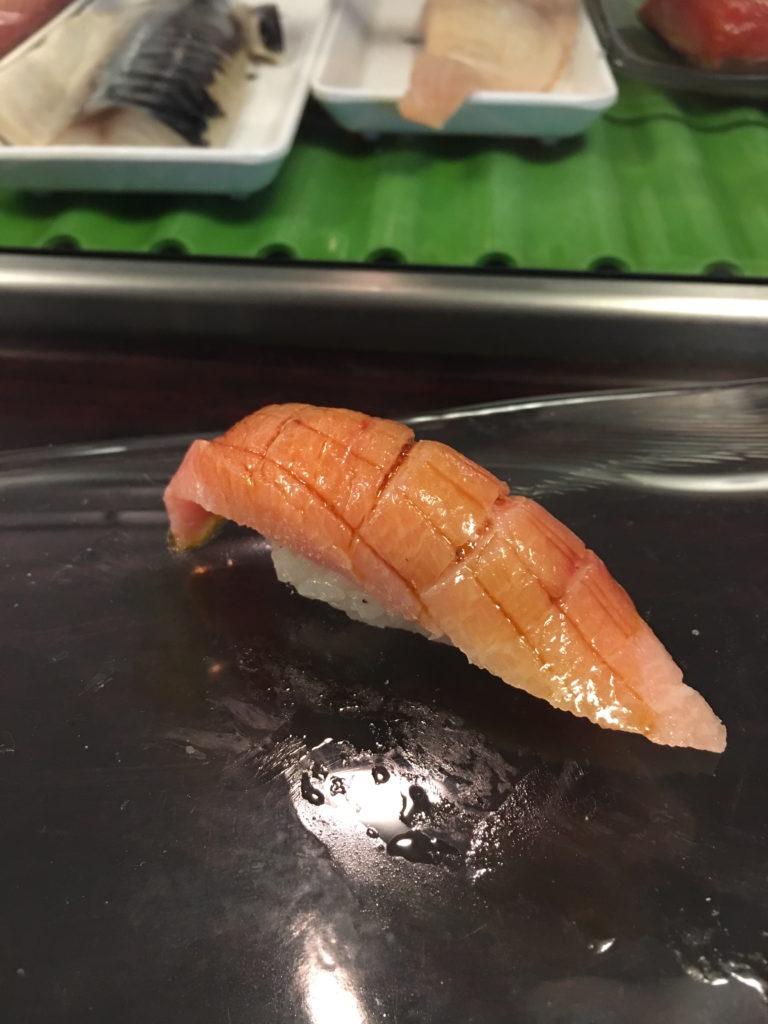 The second, however, was served with black charcoal soy sauce and chef seared the fish with the blowtorch. There was a little more bitterness from the charcoal, but it paired extremely well with the smoky flavor left from the fire gun. Even though it was cooked a bit more, it was still very tender and delicious.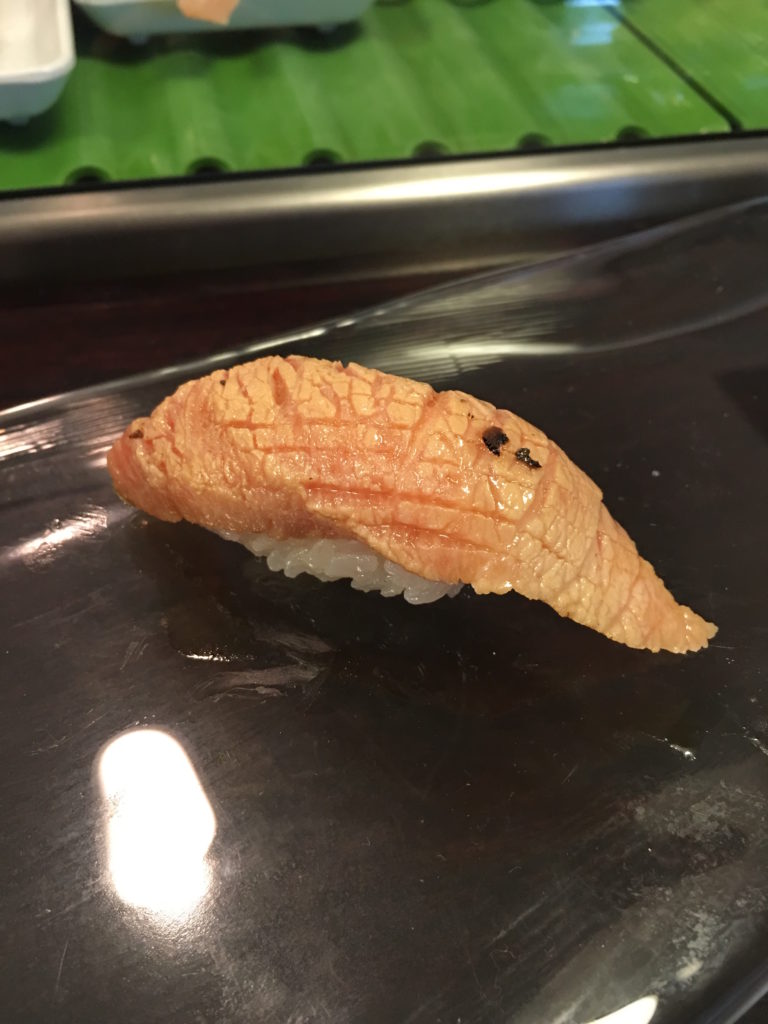 To give me a taste of what Wasabi has to offer outside of the sushi realm, Chef prepared his Seabass Saikyoyaki, a roasted Chilean Seabass, marinated in a sweet miso sauce, accompanied by grilled veggies ($28). The fish was cooked perfectly, and the miso sauce was very unique.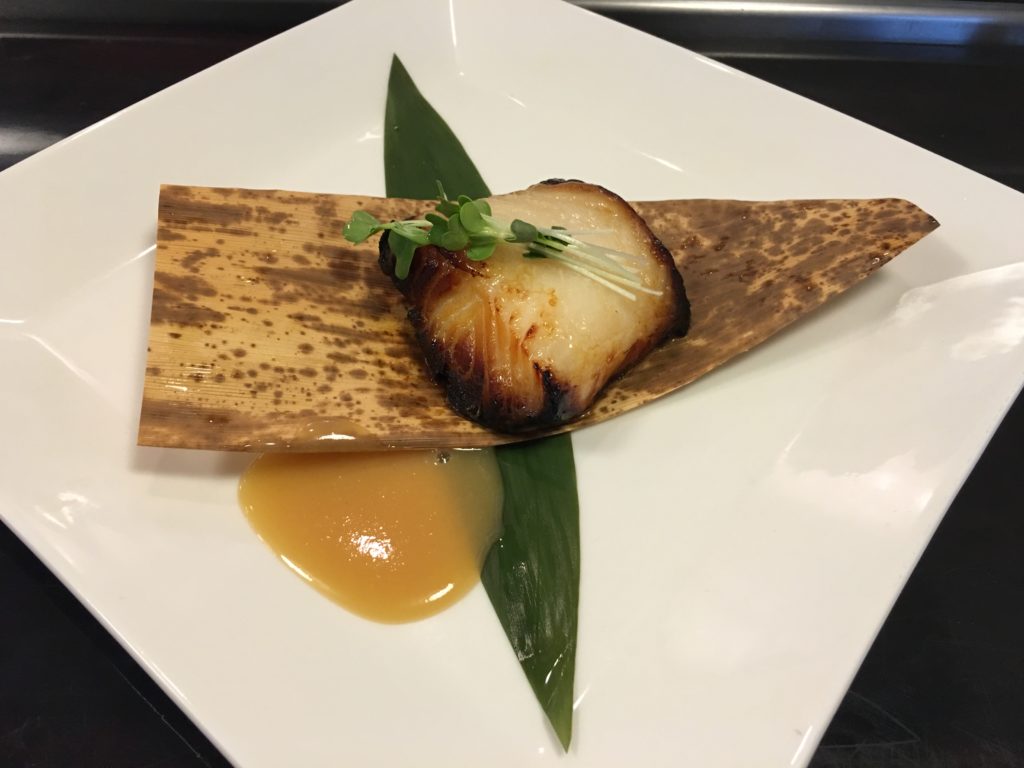 My final course was a brand new American-style sushi roll that Chef wanted me to try, since he knows I love sushi rolls (so for those of you not brave enough to try nigiri, this might be more your style). It was a tempura lobster roll with snow crab, pineapple, and asparagus inside. The whole roll was then tempura fried and served over a bowl of red curry sauce. I'm pretty sure they tapped into my brain to create this roll because it was basically all of my favorite things. It was bursting with flavor, and the hint of pineapple made it taste just like summertime. It didn't have a name as of my visit, but I really hope they named it The Queen roll in honor of me and my giant ego. Time will tell.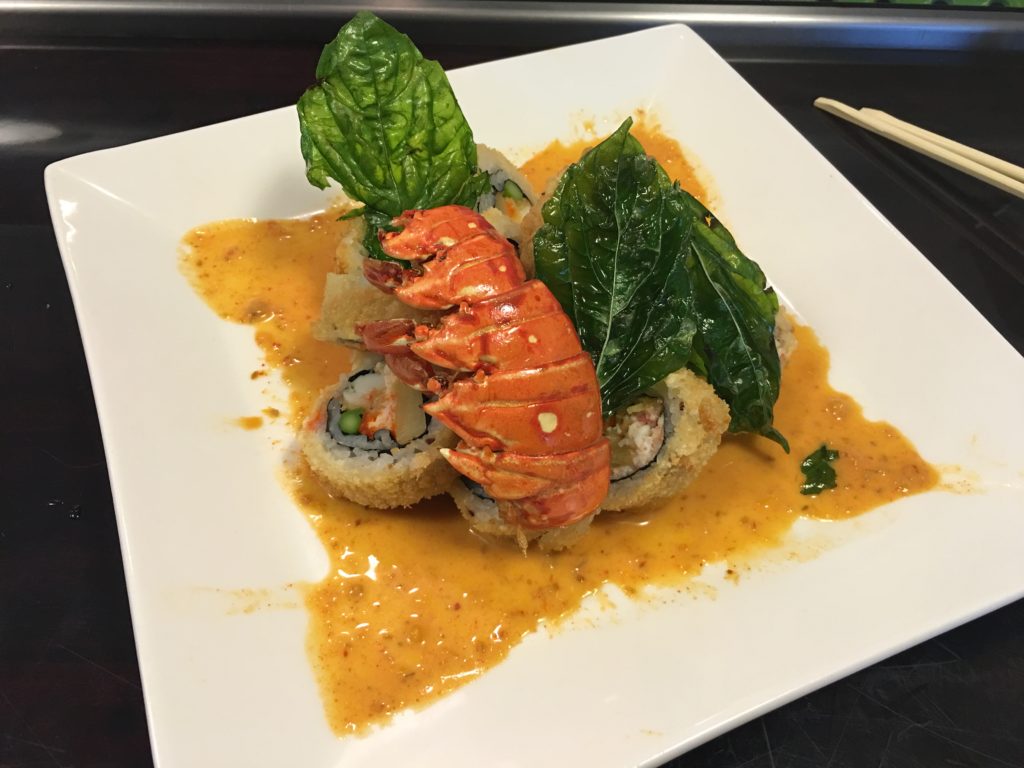 If you haven't been to Wasabi Mount Pleasant or Wasabi Daniel Island (both of which are owned and operated by Chef Chan and his awesome staff), you're really missing out. Get out there and eat some sushi!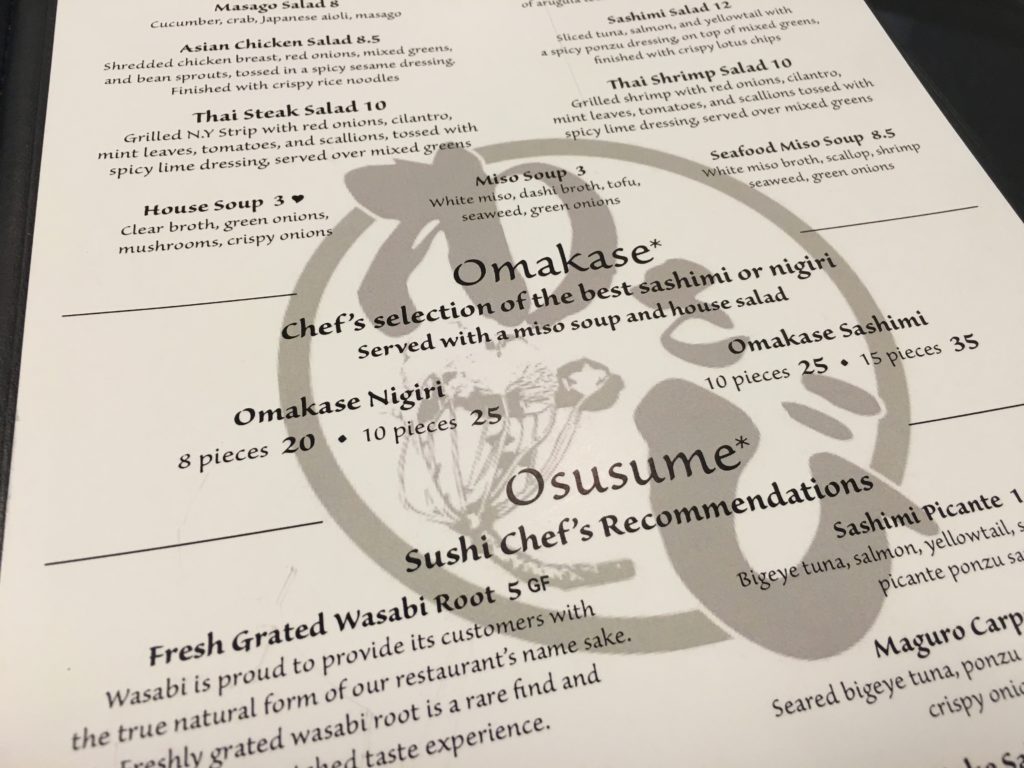 *Note: This is not the typical amount of food you receive when ordering omakase. I received a lot more variety for review purposes*
Wasabi Mt. Pleasant
1121 Oakland Market Rd
Mount Pleasant, SC 29466
843-284-8337