Back in May, I attended a preview party for Cinco, a new tex-mex style restaurant in Mount Pleasant. We had margaritas and watched an awesome machine press out freshly made tortillas, which was pretty freakin' cool.
We were excited to go back and try it on a normal day, since our preview experience was pretty positive. We started with a pineapple margarita, which was tasty. Nice and tangy, with just a hint of sweetness. My only complaint was that the pineapple chunks at the bottom kept getting stuck up in the straw, which made it a little tricky to drink.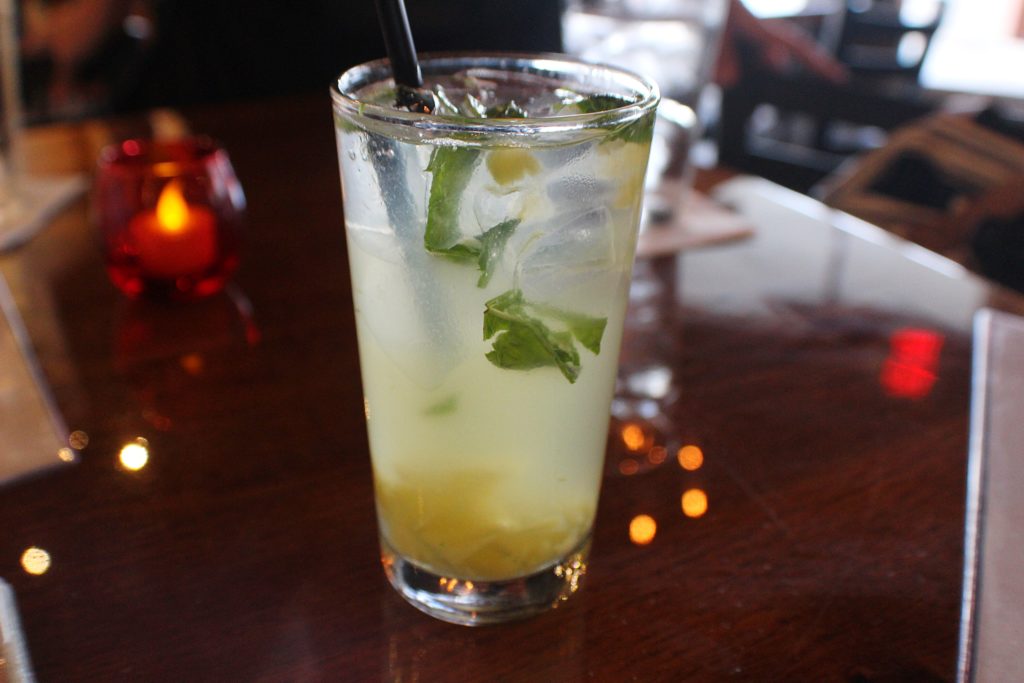 Syd started with a regular margarita, which was a lot easier to drink (unless you're like me and have to take an antacid after every margarita). It had the perfect balance of sweet and sour, and didn't immediately have me reaching to my purse for a Tums.
Because Syd had been craving nachos lately, we decided to split and order of Cinco's Nachos (individual corn tortilla chips topped with your choice of meat–chorizo, fajita beef, or fajita chicken–refried beans, cheese, jalapeño, with sour cream, pico, and guacamole, $8). Our waitress was enthusiastic about the chorizo, so we chose that as our topping, and we weren't disappointed! The chorizo was packed full of flavor, and thankfully lacked a lot of the grease that you'll find at many other Mexican restaurants.
For my entree, I decided to go with the Carnitas (braised pork shank with grilled onions and peppers, fresh flour tortillas pico de gallo, sour cream, and 2 sides, $21). For the price, I had very high expectations, but luckily, this dish delivered! The meat practically fell off the bone and was so much more flavorful than I ever expected carnitas could be. Plus, they give you enough food that you can definitely make 2 meals out of it.
The carnitas are served with the warm, fresh tortillas off the tortilla press, and that seriously makes all the difference. I filled up 2.5 of these babies, and it didn't even look like I made a dent on my shank.
For our sides, we opted for the Frijoles Refrito and Arroz Roja (included with the cost of the carnitas, but $4 each if you got them on the side). The beans were absolutely fantastic. They were nice and creamy, wth just the right hints of smoke and spice. The rice was just ok. It was flavorful, but pretty dry… it didn't blow me away.
Syd ordered the Enchiladas (choice of meat: barbacoa beef, chicken tinga, or spinach & bean. Choice of sauces: roja, verde, or suizas. Served with 2 sides, $12). Our waitress recommended we try the barbacoa with the verde, which we did. We really enjoyed it, although I think with the verde sauce, I would've preferred chicken. The barbacoa meat itself was very tasty and tender, but I think it pairs better with a red sauce (but that's just me). The sides we chose were the Arroz Verde and the Corn Salsa, which our waittress also recommended. The arroz verde was a lot more flavorful than the roja, and the corn salad was nice and refreshing, but otherwise not noteworthy.
I'm not sure if Cinco offers dessert, but even if they did, we wouldn't have been able to stomach it.
All in all, I thought Cinco was a delicious meal, and for the most part was impressed with both the quality and portion sizes of the food we tried. I can't wait to go back and try more things off the menu!
Cinco Tex-Mex
1035 Johnnie Dodds Blvd #B7
Mount Pleasant, SC 29464
(843) 606-6788