Sometimes, the burdens of life get you down and the idea of making a whole Thanksgiving dinner is just too much for you to handle. It's ok. Don't feel bad, I totally get it. And so do these restaurants. Find your Thanksgiving hero in one of these awesome restaurants in Charleston: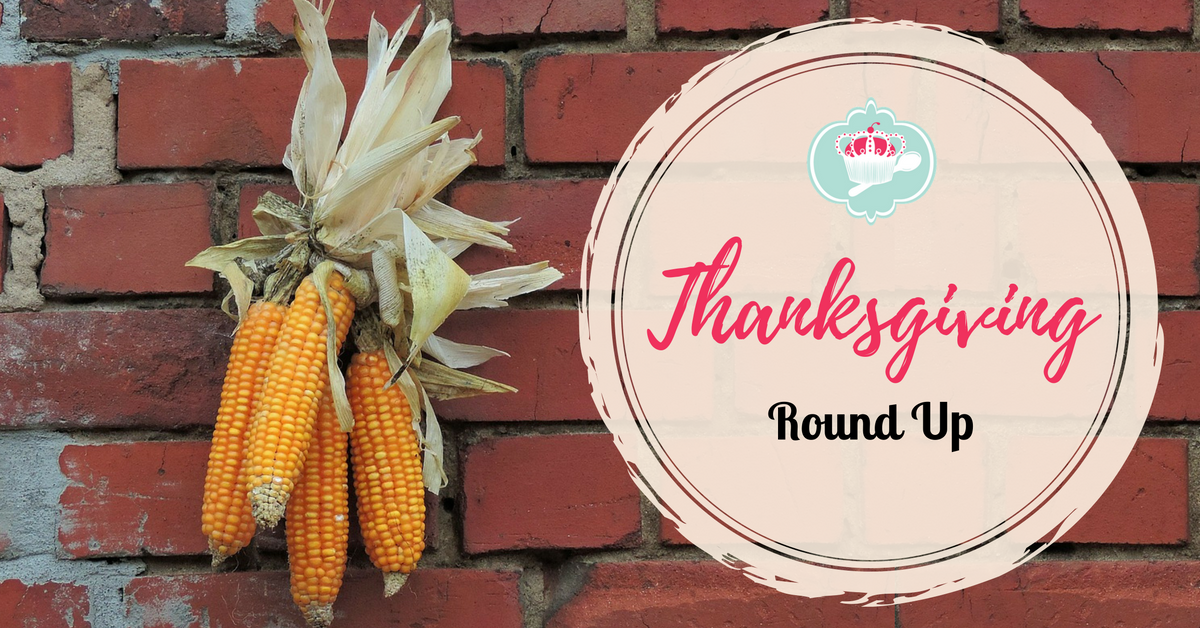 **Post will be updated with new restaurants as they come available.**
Dine-In Options
Downtown
Reservations: (843) 937-8666
Pricing: $35 for a prix fixe 3-course meal. Kids 12 & under are $18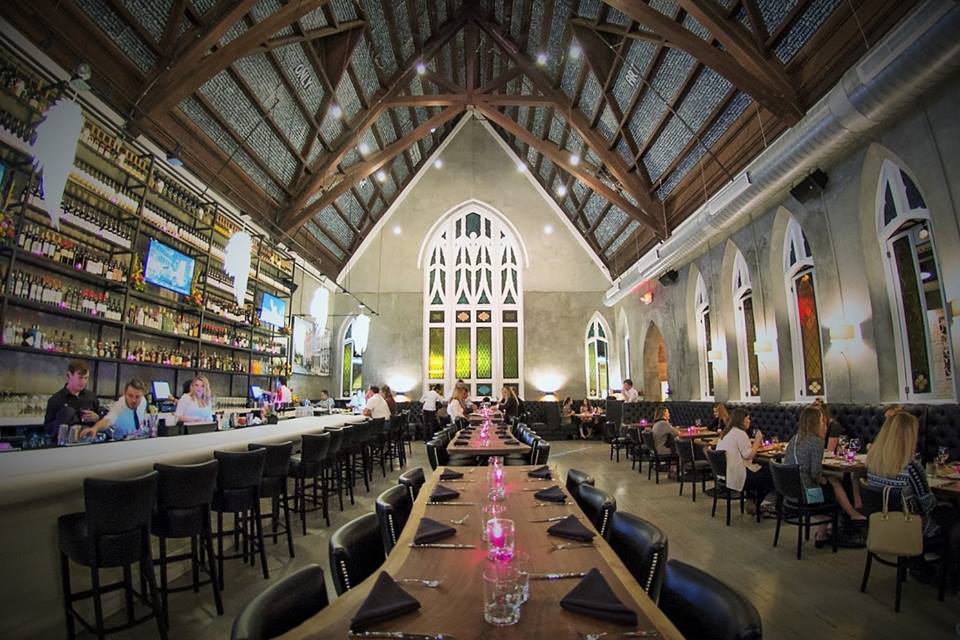 Menu items include their famous burrata salad, beef carpaccio, butternut squash soup, or southern poutine for course #1; turkey roulade, cheddar agnolotti, pan-seared scallops, or pan roasted beef tenderloin for course #2; and pumpkin pie, lemongrass frozen mousse, or S'mores trifle for course #3.
West Ashley
Reservations: 843-766-1644
Pricing: $17.95 for adults; $5.95 for kids 10 and under

Oven Roasted Turkey Breast
Sugar Cured Ham
Sweet Potato Casserole
Green Beans
Honey-Butter Glazed Carrots
Mashed Potatoes
Southern Herb Stuffing
Homemade Gibet Gravy

Cranberry Relish

Cornbread Muffins

Pecan or Pumpkin Pie
Downtown Charleston
Reservations: 843-872-9065
Pricing: $85 for adults; $30 for kids 6-12; free for kids 5 and under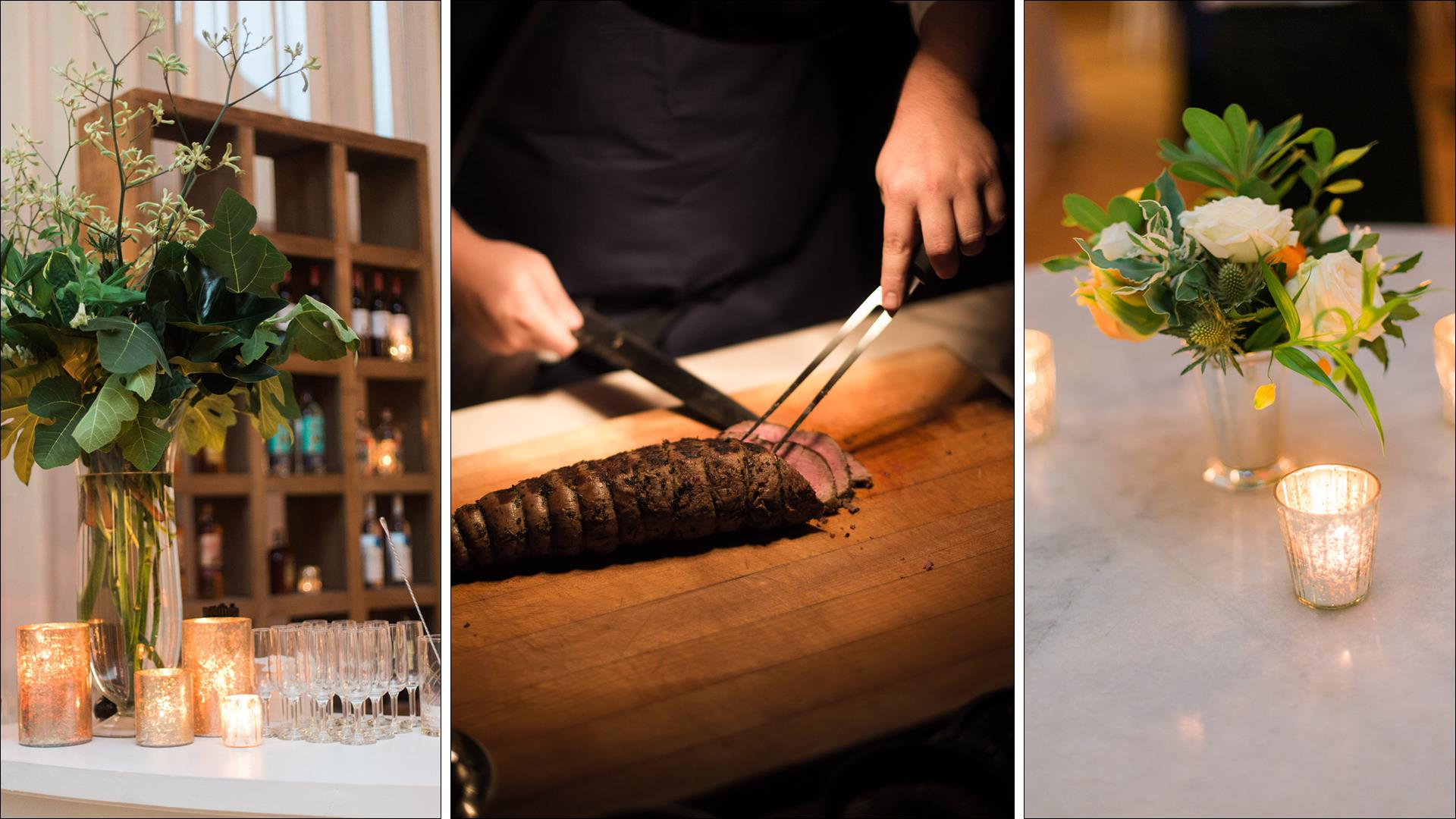 Gather with friends and family at The Dewberry this Thanksgiving, November 24th. Our chef curated, traditional holiday feast is sure to create lasting memories for years to come.
Seatings are available from 12 – 4 p.m. $85 per adult, $30 per child ages 6-12 and complimentary for children under 5.
Tickets are limited. Please call 843.872.9065 for details and reservations.
Downtown Charleston
Reservations Required: 843-724-4144
Pricing: $39 for adults; $15 for kids 12 and under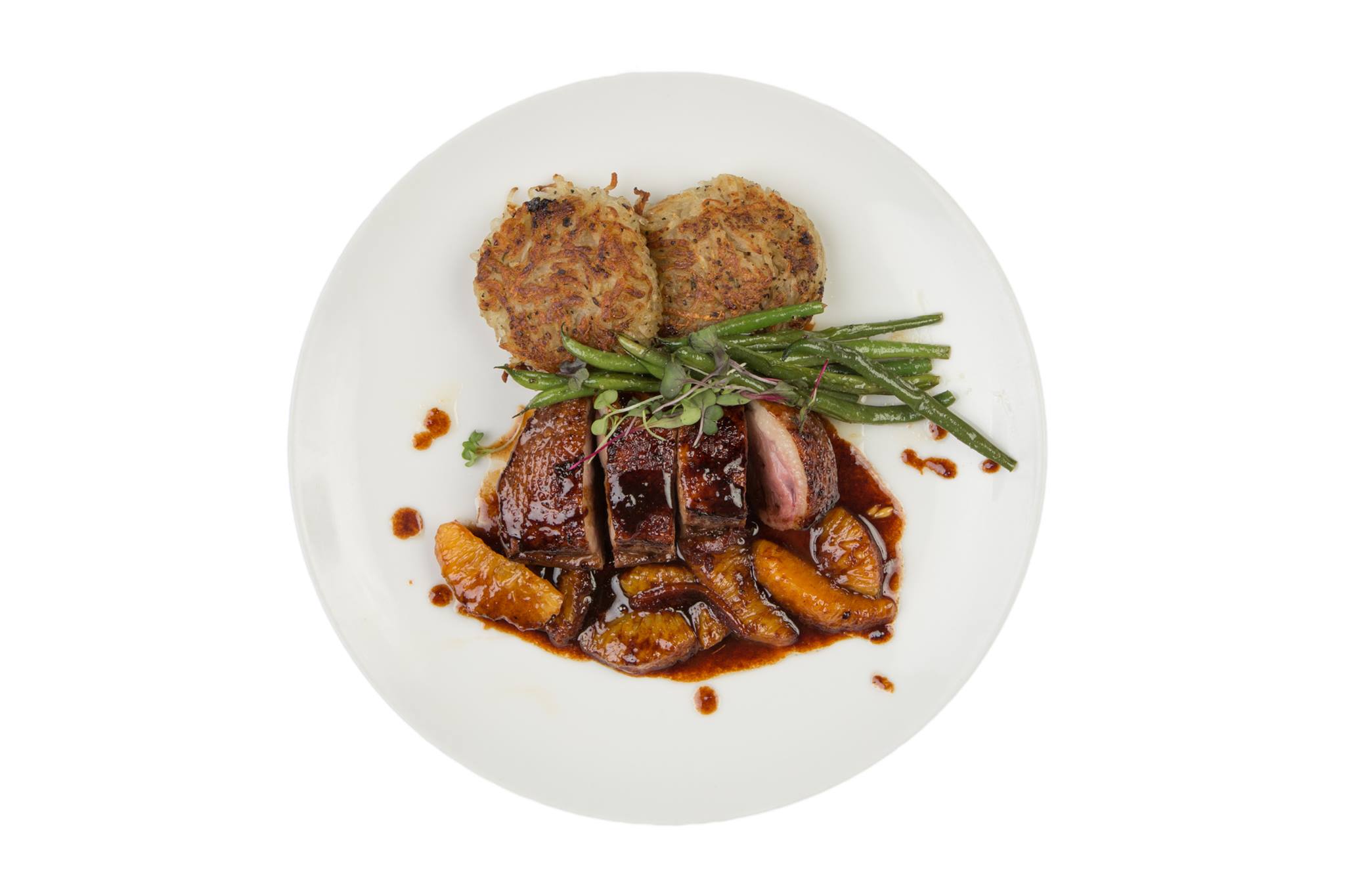 Explore the artful culinary creations of Thanksgiving dinner with us. Enjoy classic holiday dishes with our signature Bohemian twist in an inspiring atmosphere. It's a new spin on a classic tradition and unlike anything you've experienced before.
Three Course Thanksgiving Dinner at Élevé Dining Room from 11:00am-9:00pm
*An ala carte menu will also be available
To make your reservation today, please call 843.724.4144 or visit
http://www.grandbohemiancharleston.com/dining/reservations/
Downtown Charleston
Reservations: 843-724-3815
Pricing: $55 for appetizer + entree, or add dessert for $60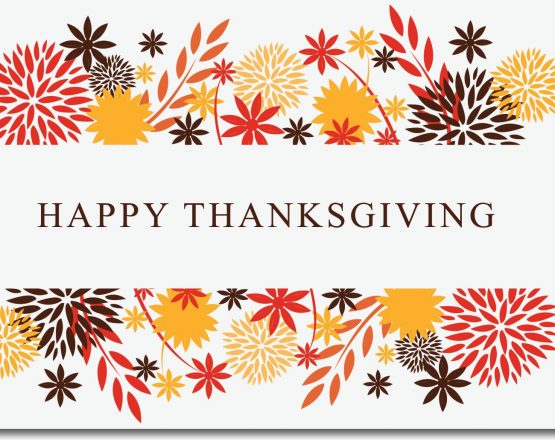 Leave the cooking to High Cotton this Thanksgiving! Join us Thursday, November 24th, from 12:00pm-8:30pm, for a prix fixe menu of appetizer and entree for $55, or add dessert for $60. We are also offering Turkey Sandwiches to go!  Reservations are required, and can be made by calling us at 843-724-3815.
Downtown Charleston
Reservations Required
Pricing: priced per menu item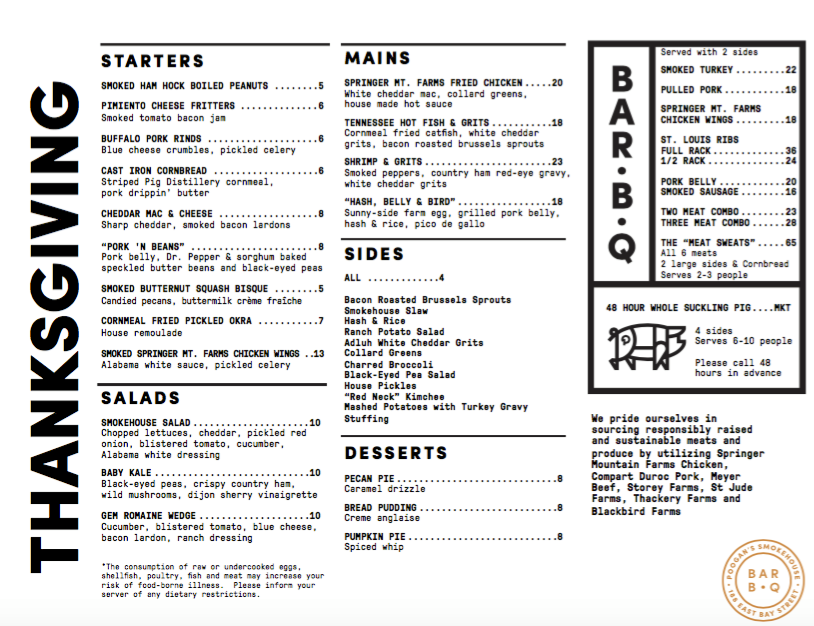 Downtown Charleston
Reservations: 843-722-5588
Pricing: $24.95 for adults and $8.95 for children under 10
Saffron's traditional turkey day buffet Is right around the corner. Make your reservations now at 843-722-5588 Adults $24.95 Children $8.95. Free Range Turkey- Prime Rib – Alaskan Salmon – Wood Oven Baked Ham. With all the trimmings!
Caramelized Onion Mashed Potatoes
Roasted Sweet Potato w/ Honey & Cinnamon
Mac & Cheese
Green Beans Almondine
Broccoli Cauliflower Casserole
Saffron Rice Pilaf
Crunchy & Crispy Field Green Salad
Cranberry Sauce, Bread & More
Spiced Pumpkin Pie and as always, more, more & more desserts sure to please your taste buds!
Downtown Charleston
Reservations: 843-722-5588
Pricing:$55 for appetizer + entree, or add dessert for $60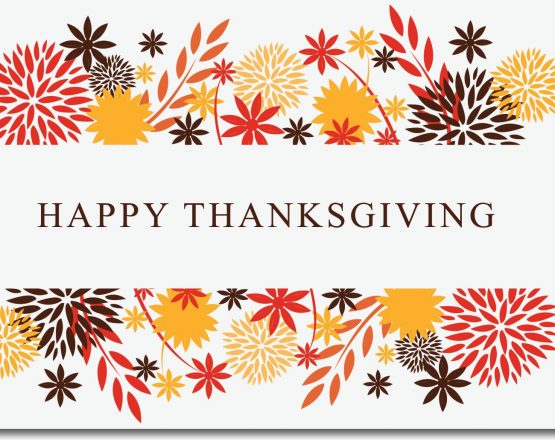 Leave the cooking to S.N.O.B. this Thanksgiving! Join us Thursday, November 24th, from 11:30am-7:00pm, for a prix fixe menu of appetizer and entree for $55, or add dessert for $60. We are also offering Turkey Sandwiches to go!
To Go Options
Downtown Charleston
Order deadline: November 23 (or while supplies last)
Price: $125 for a half smoked turkey or $5 / pound for a heritage turkey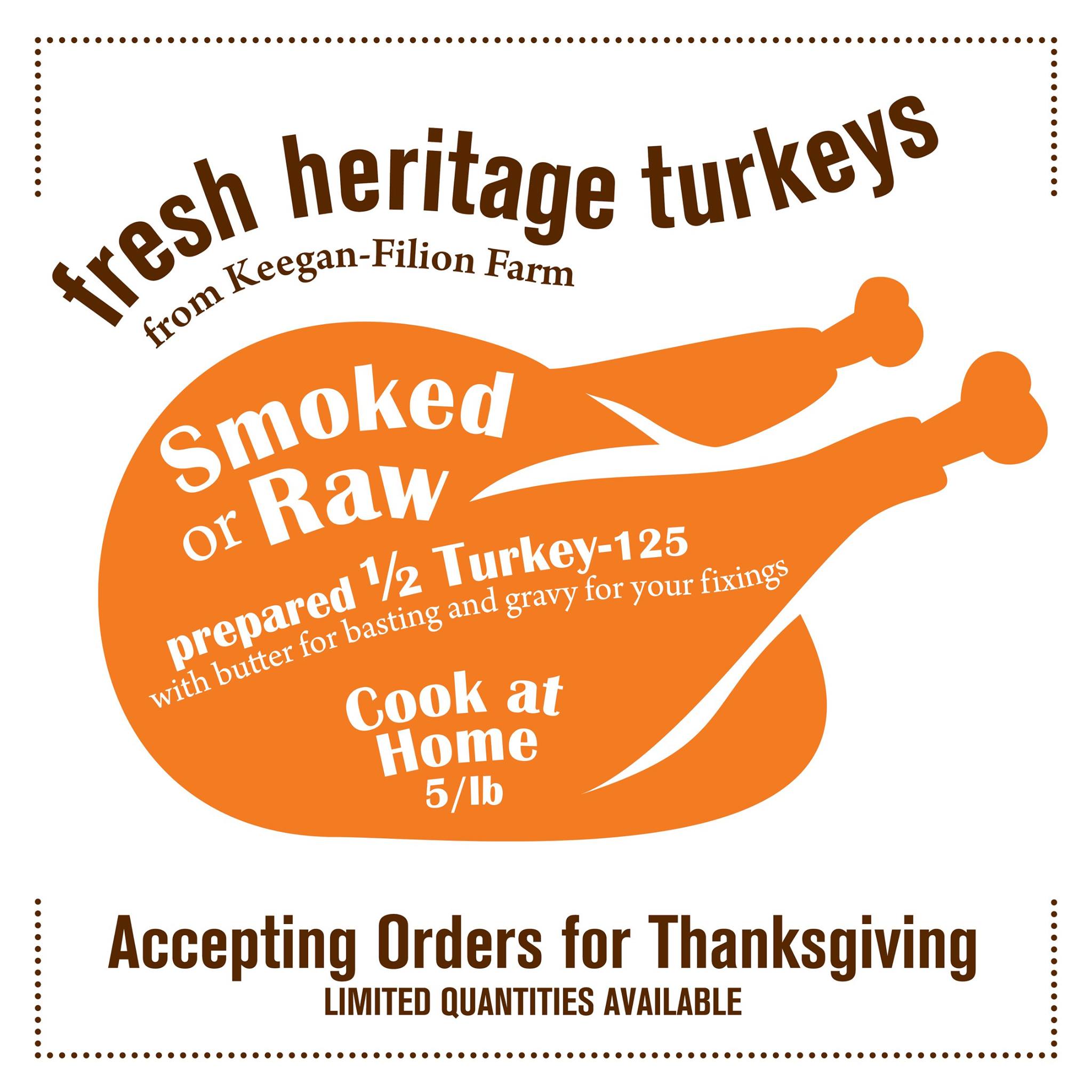 Thanksgiving is right around the corner and it's time to order your fresh Heritage turkeys this year. Artisan Meat Share knows a Thanksgiving feast is all about the turkey, and Charleston locals can let the experts handle preparing the bird. Straight from Keegan-Filion Farms, there's a spot for AMS' Heritage breed turkeys on every holiday table.
For those wanting Chef Craig Deihl and his team to do the handy work, smoked half turkeys come with butter for basting and gravy for your fixings, priced at $125. Or, opt for a Heritage turkey to cook at home priced at $5 per pound. Artisan Meat Share is accepting orders for Thanksgiving now. Limited quantities are available and can be ordered in advance by calling (843) 641-7299.
Johns Island
Order deadline: November 25
Price: price per menu item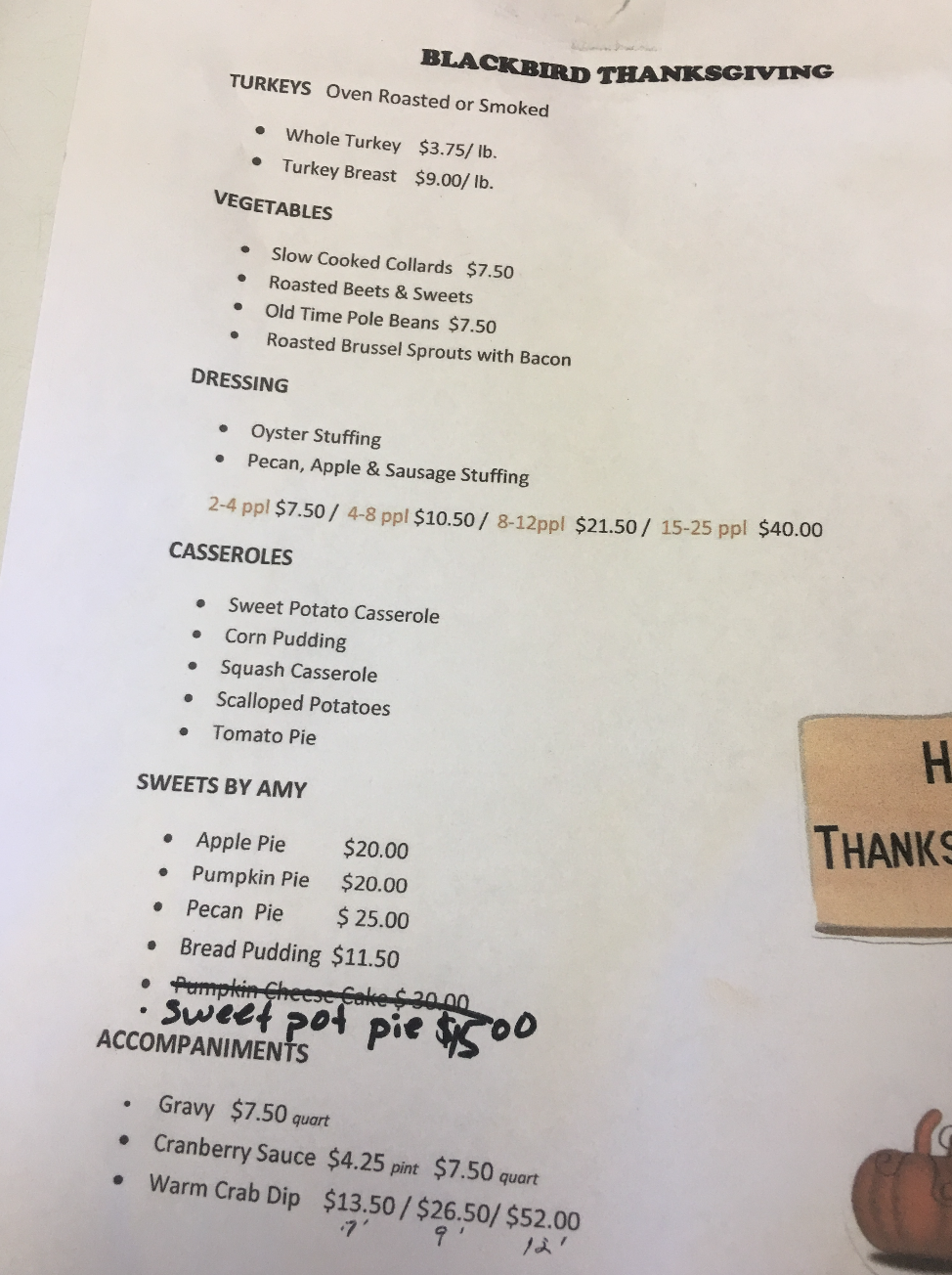 Order Now. 559-0193
Open Wednesday, November 25 until 5:00.
TURKEYS Oven Roasted or Smoked
Whole Turkey $3.75/ lb.
Turkey Breast $9.00/ lb.
VEGETABLES – $7.50
Slow Cooked Collards
Roasted Beets & Sweets
Old Time Pole Beans
Roasted Brussel Sprouts with Bacon
DRESSINGS
2-4 ppl $7.50 / 4-8 ppl $10.50 / 8-12ppl $21.50 / 15-25 ppl $40.00
Oyster Stuffing
Pecan, Apple & Sausage Stuffing
CASSEROLES
Sweet Potato Casserole
Corn Pudding
Squash Casserole
Scalloped Potatoes
Tomato Pie
SWEETS BY AMY
Apple Pie $20.00
Pumpkin Pie $20.00
Pecan Pie $ 25.00
Bread Pudding $11.50
Pumpkin Cheese Cake $ 30.00
ACCOMPANIMENTS
Gravy $7.50 quart
Cranberry Sauce $4.25 pint $7.50 quart
Warm Crab Dip $13.50 / $26.50/ $52.00
Downtown Charleston
Order deadline: November 16
Price: $225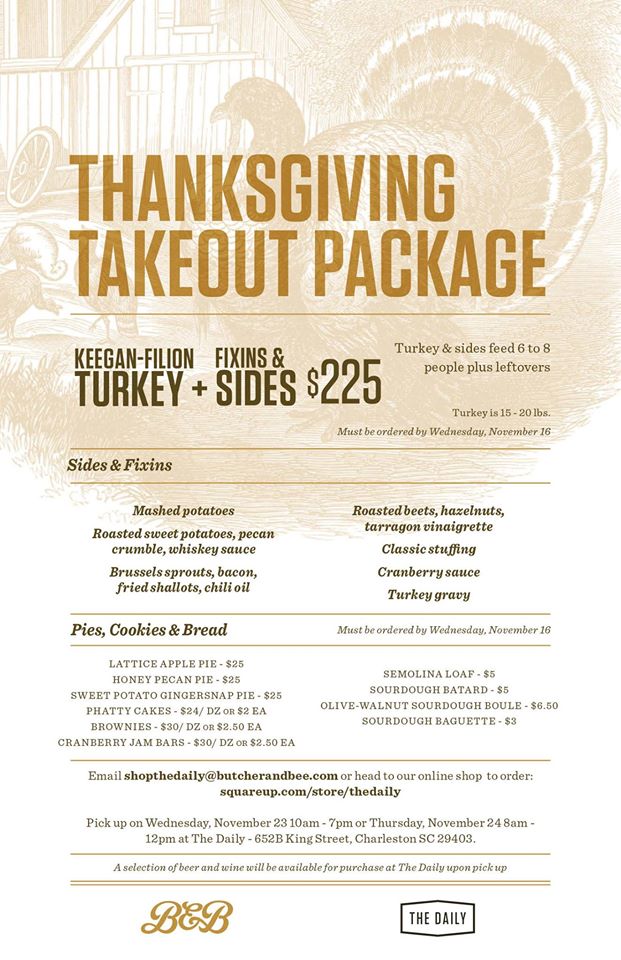 Thanksgiving Takeout Package features a 15- to 20-lb. Keegan-Filion Turkey plus sides, making it just the right amount of food to feed 6 – 8 people this holiday while still having enough for leftovers.
Side dishes and fixins include:
The traditional: classic stuffing, mashed potatoes, turkey gravy, and cranberry sauce
The distinctive: Roasted Sweet Potatoes with pecan crumble and whiskey sauce; bacon-laced Brussels Sprouts, tossed with fried shallots and chile oil; and Roasted Beets with hazelnuts and tarragon vinaigrette
The optional add-ons: pies, cookies, and breads by Pastry Chef Cynthia Wong ($2-25)
Guests can purchase Thanksgiving Takeout for $225 (that's $28-37.50 per person–what a deal!). All that's left to do is stock up on adult beverages—which, conveniently, guests can check off the list during pick up at The Daily (652B King St.) Wednesday, Nov. 23, 10 a.m.-7 p.m. or Thursday, Nov. 24 8 a.m.-12 p.m. by perusing affordable, seasonally inspired, and crowd-pleasing pairings, with guidance from McCarus Beverage Co. Orders must be placed by Wednesday, Nov. 16 by emailing shopthedaily@butcherandbee.com.
Downtown Charleston
Order deadline: November 21
Pricing: $175; feeds 6-8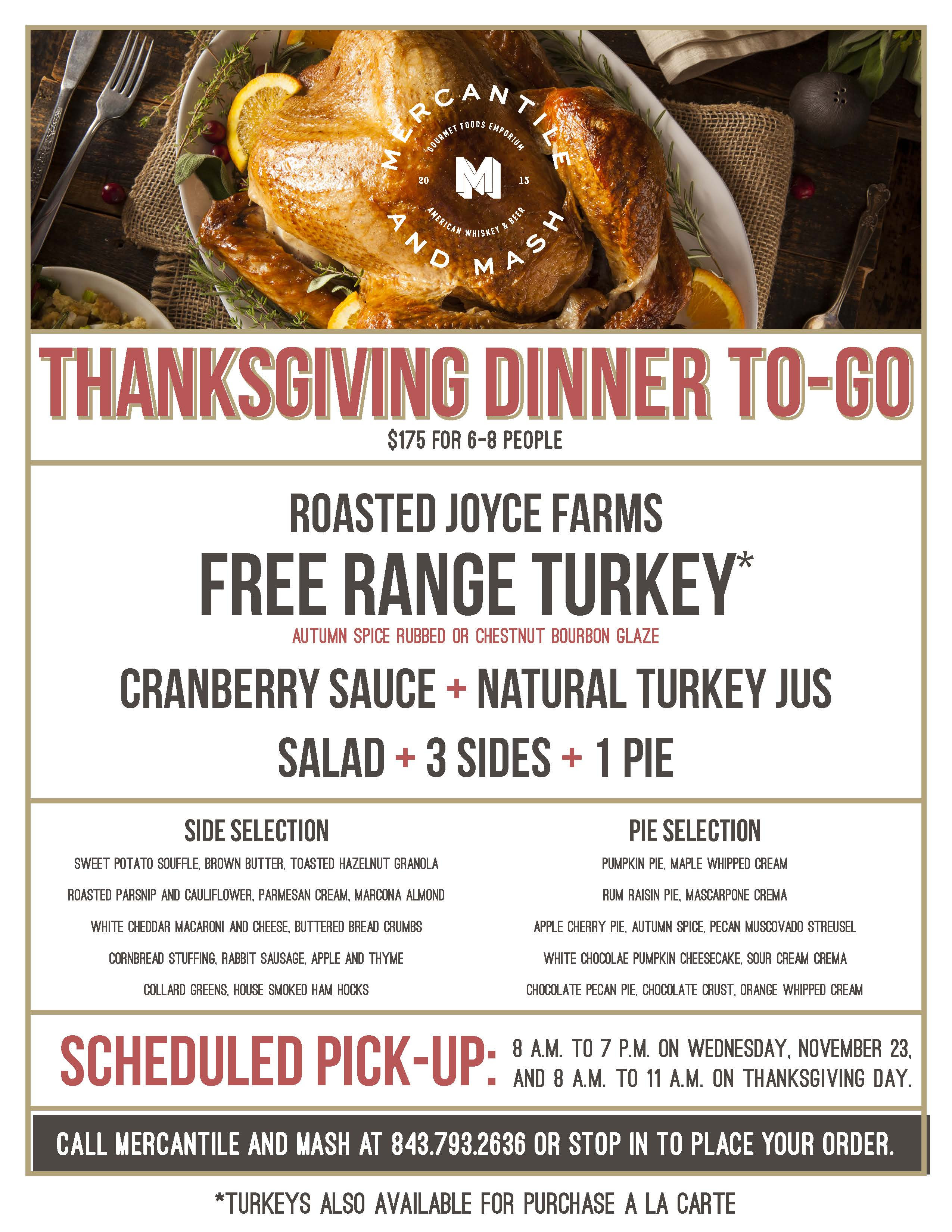 Thanksgiving is right around the corner – are you ready? Let us take the hassle out of cooking for you by preparing your Thanksgiving dinner-to-go! With a menu full of delicious sides, a Joyce Farms turkey and delightful desserts, you'll be sure to have a stress-free, scrumptious holiday celebration. Call us at 843.793.2636 or stop in to place your order today! #mercantileandmash #mercandmash
Downtown Charleston
Order deadline: November 23 at 5pm
Pricing: $150; feeds up to 6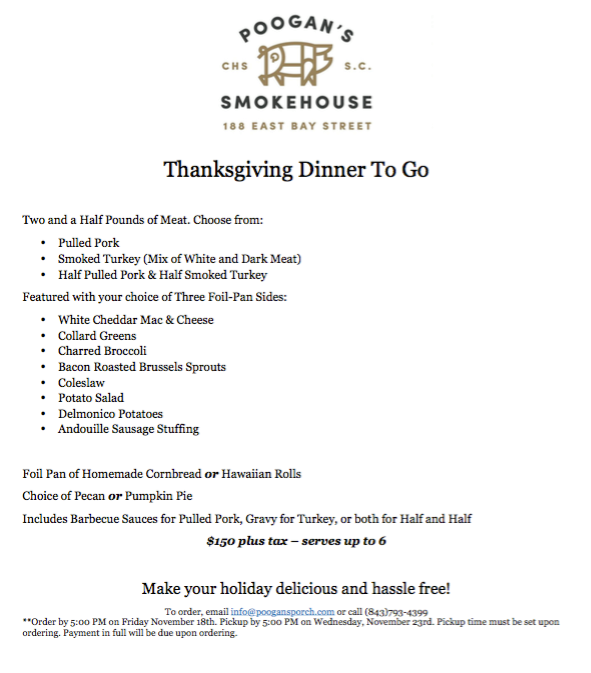 2.5 pounds of meat 
Pulled Pork
Smoked Turkey (mix of white & dark meat)
Half pulled pork and half smoked turkey
3 sides
White cheddar mac & cheese
Collard greens
Charred broccoli
Bacon roasted Brussels sprouts
Coleslaw
Potato salad
Delmonico potatoes
Andouille sausage stuffing
Choice of homemade cornbread or Hawaiian rolls
Choice of pecan or pumpkin pie
Includes sauces and gravy.
Downtown Charleston
Order deadline: November 19
Price: Varies; feeds 3-4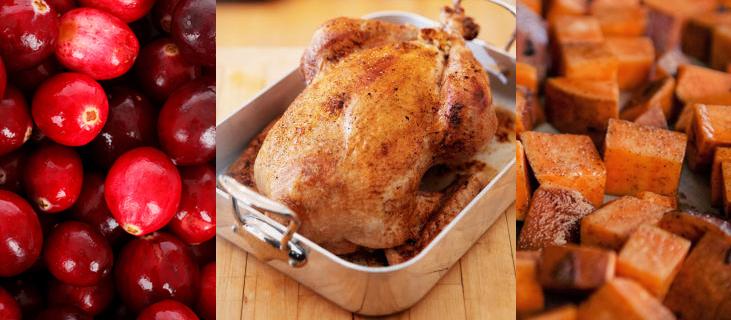 Meats:
Whole Bell & Evans ($3.95/lb.)
North Carolina Heritage Black Turkeys ($7/lb.) are available, cooked or uncooked and must be ordered in advance (limited quantities available).
Brining ($10/bird) and cooking ($25/bird) are also available.
Spiral-Cut Kurobuta Ham $13/lb.
Sides:
Creamed Greens & Gruyere – $12/lb.
Dirty Rice with Smoked Duck Sausage – $13/lb.
Sourdough Bread Pudding with Mushroom, Leeks & Bacon – $13/lb.
Sweet Potato Casserole – $13/lb.
Fixings:
Traditional Turkey Gravy – $12/qt.
Cranberry Sauce – $9/pint
Dessert:
Apple Crisp with Oat Streusel – $12 (serves 3-4)
Items will be packaged for easy re-heating may be picked up on Tuesday or Wednesday, November 22-23 from 11 am – 7 pm at Ted's Butcherblock, located at 334 East Bay Street in Downtown Charleston. The case at Ted's will be stocked with the sides, fixings and dessert from the Thanksgiving Feast Menu the week of Thanksgiving, but customers are encouraged to place orders by November 19 by calling (843) 577-0094 to ensure availability.