Recently, I had the pleasure of attending a 4-day stay at the Ritz Carlton Reynolds Lake Oconee as a representative of The Daily Meal. This is part 2 of a 3-part series. For more about my experience, read my review of Gaby's By The Lake.
Keep in mind that this meal was complimentary and that for official review purposes, I tasted smaller portions of the menu. All thoughts and opinions are my own.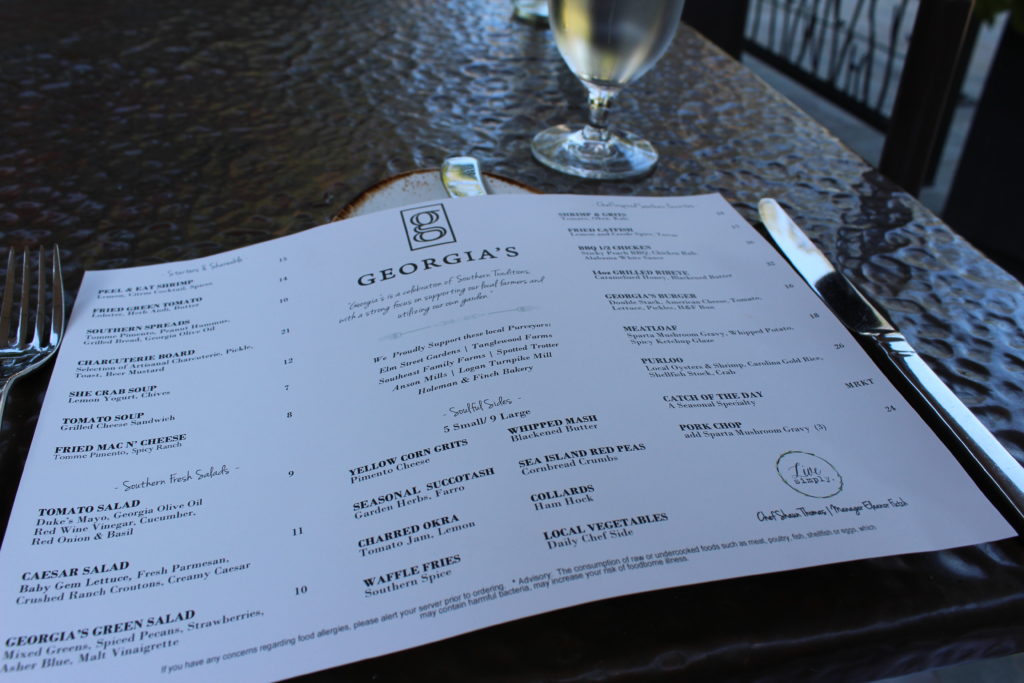 Georgia's
A slightly more upscale, but still casual offering is Georgia's. They just brought in a new chef (Shaun Thomas) and did a rebrand of their menu and the restaurant itself, so I was one of the first to try everything the new restaurant had to offer. I visited for dinner and for breakfast and both meals were fantastic.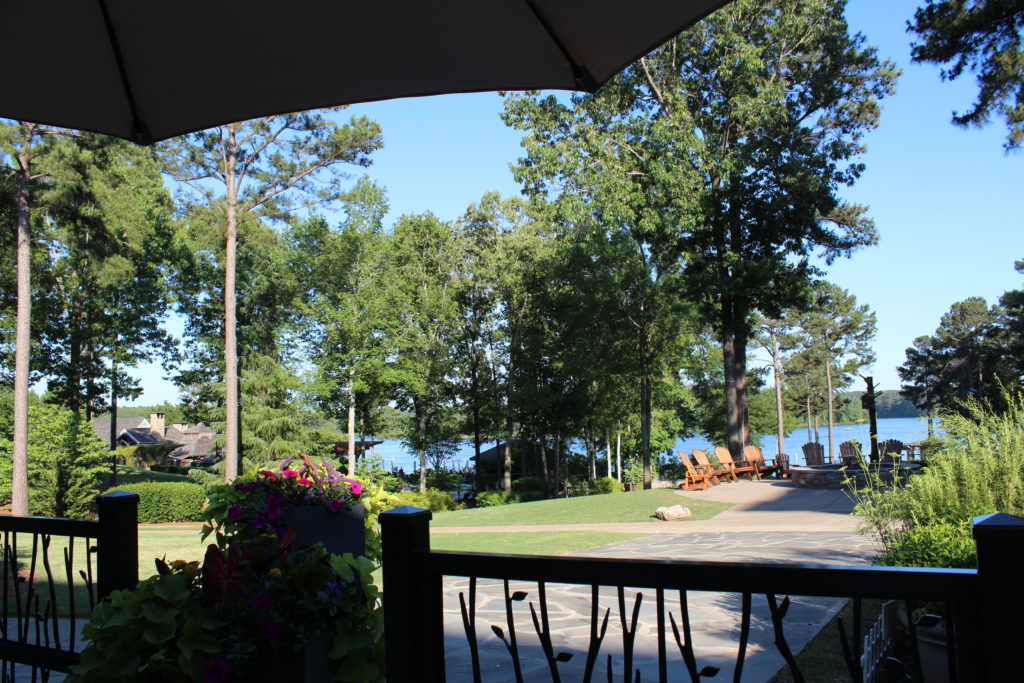 Dinner
As soon as I sat down for dinner, I was greeted with an adorable bread basket, which consisted of a salted yeast roll, cheddar bacon biscuit, and cornbread with whipped butter and jam. They were all delicious in their own right, but my favorite was probably the cornbread, which had just a hint of sweetness to it and practically melted in your mouth.
For dinner, I tried a number of things, but my favorite–by far–was the She Crab Soup (Lemon Yogurt, Chives, normal portion: $12). I sometimes tend to be wary of she crab soups, because people can be a little heavy handed with the sherry, which is not my favorite flavor, but this was perfection. It was creamy and had a nice depth of flavor that was balanced out by the lemon. A perfect cup of soup.
Because I was officially receiving tasting sizes of the different menu items, they brought out this adorable wooden board of appetizers, which consisted of the tomato salad (Duke's Mayo, Red Wine Vinegar, Cucumber, Red Onion and Basil, Georgia Olive Oil, normal portion: $9), and Southern spreads with grilled bread (Tomme Pimento, Peanut Hummus, Georgia Olive Oil, normal portion: $10). The
The Seafood Purloo (Carolina Gold Rice, Local Oysters, Shrimp and Crab, Shellfish Stock, normal portion: $26) was absolutely fantastic. I was worried it was going to be overly fishy, but it was really well-balanced without being overwhelming. Plus, the rice was cooked perfectly!
The Meatloaf (Sparta Mushroom Gravy, Spicy Ketchup Glaze, Whipped Mash, normal portion: $18) was good also. My portion had crispy bacon wrapped around the outside, which gave a little smokiness to the meat, which harmonized well with the sweet and spiciness of the ketchup glaze.
One dish that really surprised me was the Charred Okra (tomato jam, lemon, $5). I tend to think that okra is best either pickled or fried, so I had kind of low expectations for this dish. But in reality, it was exceptional! Charring the okra took out a lot of that signature sliminess, while adding in just the right amount of smoky flavor from the char. Plus, the tomato jam is my new jam (pun intended); I wish I could put it on everything!
Their take on sort of a baked bean dish is the Sea Island Red Peas (with cornbread crumbs, $5). They were cooked almost al dente, and the thing I love about the Sea Island Red Peas are just how much more flavorful they are than other types of peas. Plus, the cornbread added a nice touch of sweetness to the dish that was nice and unexpected.
The Collard Greens (with ham hock, $5) were pretty standard. I like that they go ahead and bring out some pepper vinegar (house made) without having to ask, which saves us all some time. If you like collards, you'll love these!
The Seasonal veggie (local squash, $5) was a local squash with a ricotta and squash topping and fresh roasted tomatoes. I kind of OD'd on yellow squash a couple of years ago with a CSA I'd signed up for, so I wasn't really looking forward to this, but it absolutely blew me away! The homemade ricotta with the squash folded in was exceptional, and the squash itself tasted like it came straight out of the garden right before it was put on my plate.
The Fried green tomatoes (Poached Lobster, Herb Aioli, Blackened Butter, full portion: $14) were really unique in that they were topped with a little bite of poached lobster. It was almost like a lobster roll + FGT all rolled into one. I love the cornmeal breading they used on the tomato, which was really light and still allowed you to get the full flavor of the tomato.
My favorite dessert (and the only one I took photos of) was Mary Beth's Heath Bar Custard (tahitian vanilla, butter shortbread crumble, whipped cream, chopped heath bar, $10). The recipe comes from Chef Thomas's grandmother, and he says it's "the only thing I remember her ever cooking." I love heath bar, so I thought this was fantastic (even though each bite made me feel like my stomach might explode, since I'd already eaten so much). It's sweet without being cloying and the crunch of the heath bar was a perfect counterbalance to the creaminess of the vanilla custard.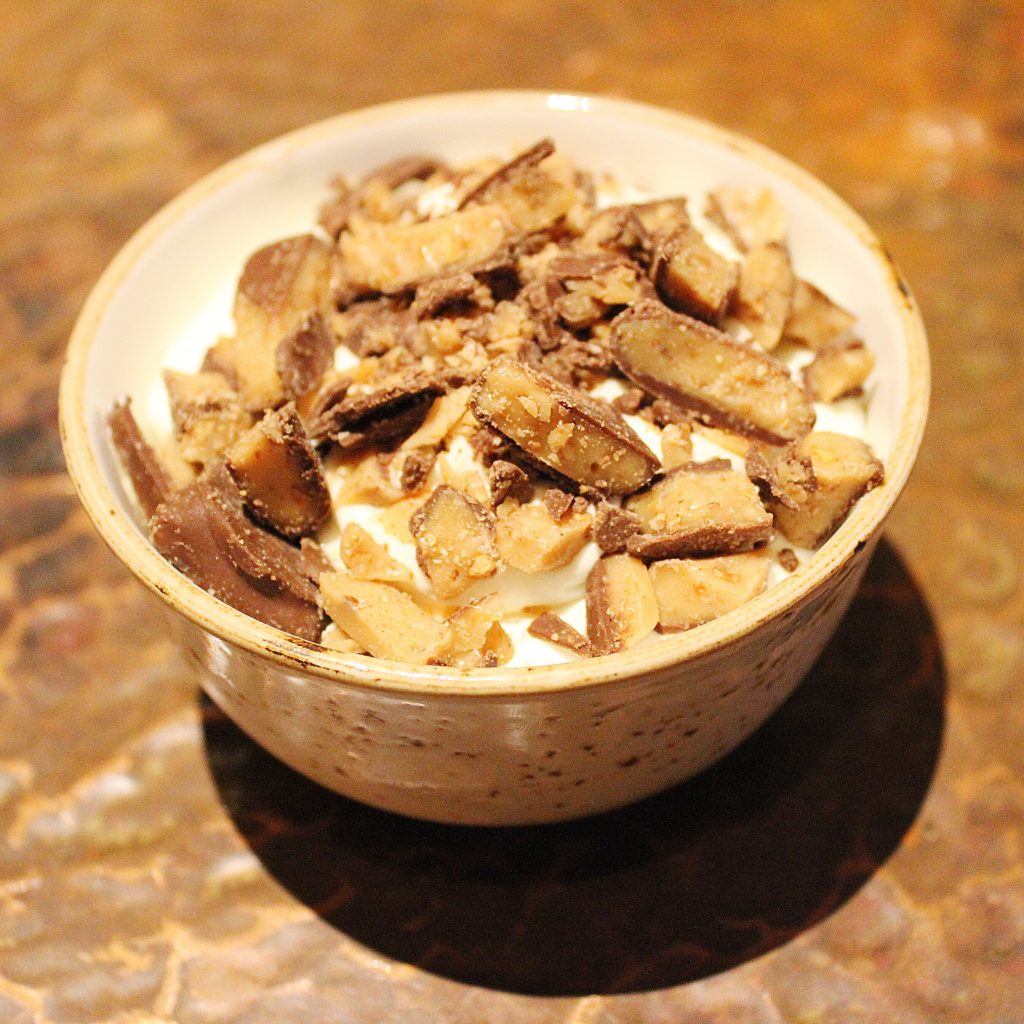 Breakfast
For breakfast, I kept it simple and easy by ordering the Eggs Benedict (Two Poached Eggs, English Muffin, Choice of Canadian Bacon or Smoked Salmon, Hollandaise, Breakfast Potatoes, $18). It was your typical eggs benny, and my eggs were perfectly poached and runny. The hollandaise was really tasty, and was the perfect condiment for me to dip my home fries in!
Since they had also just released their new breakfast cocktail menu, I tried a few of those as well. The first was their Bloody Mary (bacon-washed vodka, house made spicy Bloody Mary mix, garnished with heirloom cherry tomatoes, house pickled veggies, lemon, bacon, and purple kale straight out of the Georgia's garden, $15). I don't normally like Bloody Mary's, but I have to say that this was pretty tasty!
Next up was The Motivator (Kahlua, Godiva, Disaronno, Iced Coffee, with Irish Cream Finish, $15), which was their take on an Irish coffee. I don't usually like to mix coffee and liquor, but this was nice and refreshing. I especially liked that it was served over ice, which made it feel a lot lighter than normal.
Another option is the Sunrise to Sundown (Skyy Vodka, Orange Juice, House-Made Raspberry Syrup Drizzle, $12), similar to a Screwdriver with the added touch of raspberry syrup drizzle. It was the ideal drink for sitting out on the patio with the lake as a backdrop.
All in all, I would highly recommend this for a casual breakfast or dinner, especially when the weather is nice because the patio is awesome!