Winter restaurant week in Charleston is upon us yet again, which means you have another special opportunity to try some of Charleston's best restaurants without putting a big dent in your wallet (which is great news for those of us still trying to recover from holiday spending). The list of restaurants participating grows every new RW, and the new, less restrictive pricing list means that you can have a totally new experience every time RW rolls around. I've been to more than my fair share of RW meals, so I can say with the certainty of experience that not every restaurant week deal is created equal.
Here are some of my recommendations for restaurant week, based on past experiences (RW or otherwise), followed by some places to avoid.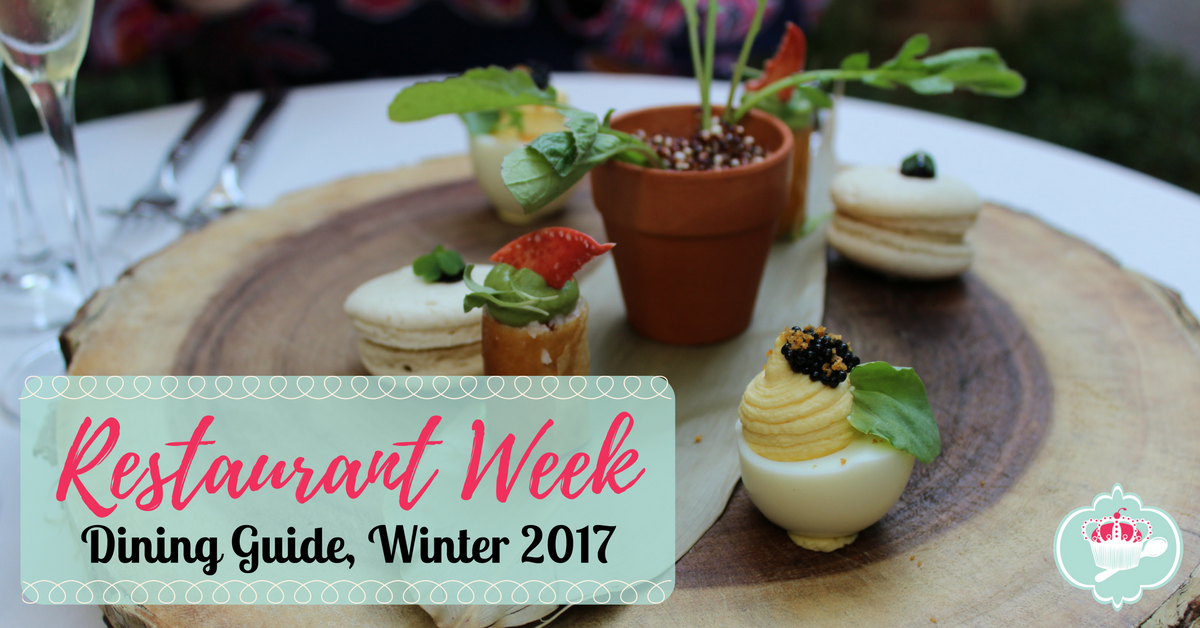 Do Visit:
3 courses for $49
Why it's great: Normally, their 9-course prix fixe menu will run you about $125/person, so if you don't want to drop that chunk of change on a meal, the restaurant week deal is pretty fantastic.
Recommendations: Although the menu changes frequently, if the octopus a la plancha or the beef wellington is on the menu, definitely go with those for your meal. Also, they have an upcharge to do the "snacks for 2," which features their world famous deviled eggs, and I highly recommend you do that if you've yet to experience them. You won't regret it.
3 courses for $30
Why it's great: Their normal entrees tend to average about $20 – $30, so 3 courses for $30 is a great deal.
Recommendations: Although the 1st course options leave a little to be desired (mostly because their bruschetta isn't one of the choices), the lamb sugo is one of my favorite entrees and it is on the RW menu this year.
3 course for $45
Why it's great: normally, a dinner at Halls costs me at least $100 (it's worth it, but it's not something I can afford to do on a regular basis). I've never had a bad meal at Halls, and the service is so great that you can sometimes get them to be a little lenient with the RW restrictions (just don't be an asshole about it).
Recommendations: I recommend seeing if they will switch out one of the salads for the chopped salad, because it's my favorite salad of all time. For entrée, you BETTER get the filet, because if not why are you even eating at Halls. Dessert varies by day, but you can bet that it'll be delicious. Pair it with a 434 cocktail because it's one of my favorite cocktails in the Holy City.
Henrietta's at the Dewberry
3 courses for $35
Why it's great: I was delightfully impressed by my meal at Henrietta's and is one of the few new restaurants in Charleston that I tried before restaurant week (PawPaw and Scarecrow, I'm coming for you). Their menu features a number of really creative (and tasty) options that are pretty impressive for a RW menu (methinks they're trying to get more people in the door).
Recommendations: The gnocchi for course 1, the flounder amandine for course 2, and the crepe cake for dessert.
4 courses for $40
Why it's great: I went to Twenty Six Divine for restaurant week dinner a year or 2 ago and was seriously surprised (considering it was a restaurant I hadn't ever heard of before). They put a lot of effort into each dish, and for such a small space, the atmosphere was great.
Recommendations: it's a prix fixe menu, so just have an open mind.
3 courses for $30
Why it's great: I feel like The Watch doesn't get enough love. The food is great, the views are breathtaking, and the drinks are creative.
Recommendations: I don't have any feelings toward either of the appetizers, but the Shrimp & Grits is some of the best I've ever had in the entire city. For dessert, I would recommend the banana pudding, because I think they really do it justice.
Indaco
3 for $35
Why it's great: Indaco has one of the most comprehensive RW menus of all the participating restaurants, offering pretty much the entire menu with full portion sizes. To me, this is what restaurant week is all about.
Recommendations: Course 1: antipasti (burrata) or pizza (brussels sprouts) Course 2: pasta (black pepper tagliatelle) or piatta (wreckfish) Course 3: dessert – any
Grill 225
3 for $45
Why it's great: Grill 225 has the biggest restaurant week menu of all the steakhouses on the list, with a 7 different options in the entrée category (including 1 vegan option!).
Recommendations: blue crab chowder to start, the 12 oz Prime ribeye or the tuna tower (depending on how hungry you are), and finished with the banana bread pudding, which is a perfect way to end any meal. Be sure to add one of their signature Nitrotinis to add a little fun to your dinner!
Lunch (3 for $16) or Dinner (3 for $33)
Why it's great: I think Chef Landon Ganstrom is a hidden gem of the Charleston culinary scene. Although it disappoints me to my core that the mac & cheese isn't an option on the RW menu, it features a number of new and cool options I haven't had the opportunity to try yet.
Recommendations: Lunch: Risotto tots, leafy greens side salad, and blackened fish tacos.
Dinner: Southern tomato pie, Beef Wellington, vanilla crème brûlée with seasonal berries.
Le Farfalle
Brunch / Lunch (2 for $20) or Dinner (3 for $35)
Why it's great: I really enjoyed my dinner at Le Farfalle recently, and would like to go back, but I think these restaurant week prices would help me try more of what's on the menu without having to take out a personal loan.
Recommendations: Brunch: 1. Bellini (not sure if this is included or just encouraged) 2. Biscuits & gravy or Nutella waffle 3. Apple & quince crostata
Lunch: 1. Whipped ricotta or Italian wedding soup 2. Ricotta gnudi all'amatriciana
Dinner: 1. Polpette Alla Siciliana 2. Fazzoletti verde 3. Cookie plate.
Oak Steakhouse
3 course for $45
Why it's great: I get the impression that people think of Oak as an old people steakhouse. And yes, that may be their main demographic, but I think they have some redeeming qualities. I do still have some lingering resentment from when they pre-cut my filet without asking me, but the food tastes great and the service is friendly as well.
Recommendations: 1. Chopped Salad, 2. Filet mignon (request that they don't pre-cut it) 3. Chocolate turtle torte
Restaurant Week Restaurants to Avoid:
Drawing Room at Kiawah
The waitstaff at Kiawah tried really hard to talk us out of ordering from the RW menu. And I get it, restaurant staffs across the world abhor restaurant week because they tend to not make any money unless people order off the menu (plus with a lower price, waiters are making less in tips) So I get it. But our waiter became kind of surly and dismissive once he found out we were sticking to the RW menu. The portions were small, and in general, it was definitely not worth the drive out to Kiawah.
Ok, so I've written about Macintosh being disappointing in the past, specifically for the way they handle restaurant week. I love them for brunch, but would recommend skipping visiting The Macintosh at pretty much any other time.
Stars Rooftop
Ugh, Stars. I would have to say this this was one of my most disappointing restaurant week meals of all time.  Come for (overpriced) drinks on the rooftop, but plan to get dinner elsewhere.
82 Queen
Restaurant week or not restaurant week, 82 Queen is consistently underwhelming. It just happens to be even more so during this period of time, for reasons I addressed earlier.
I actually like Poogan's, but they always do a rollback menu (this year from 1/23/17 – 2/9/17) that gives diners 40% off the normal cost of a meal, which tends to be a better deal than their restaurant week offerings. So just wait til right after RW is over to make your reservations!
Al Di La
I would wait until Avondale Restaurant Week to try out Al Di La. Or better yet, just go to Indaco or Vincent Chicco's, because I've been disappointed with Al Di La for years now. It's been a while since I've been, so I'll give them the benefit of the doubt (maybe things have gotten better), but there are so many other restaurants to try, I'm not in a huge hurry to go back.
Ms. Rose's
I'm not saying that Ms. Rose's gave me food poisoning during restaurant week one year, but I'm not not saying that.
Any restaurant offering a RW deal in the $20 range whose normal entrees cost ~$10
(I'm thinking things like Wild Wing, Carolina Ale House, Mellow Mushroom, Mex 1). This is a lesson learned from a personal strategy of mine, that restaurant week should be saved for the restaurants that are more expensive so that I'm not out quite as much money if it's disappointing. But also, a number of the places on the $20 spectrum are offering deals that aren't really deals. You might be saving $5 or so, but is that really worth it? Unless you were planning on going there anyway and forgot that it was restaurant week, I wouldn't waste a RW meal on these places.