Head bartender Jayce McConnell of Edmund's Oast will hit the road for a five city "Bitter and Then Some" Southern Road Tour to celebrate the third anniversary of the restaurant. He will also be touting the upcoming expansion of the soon-to-open brewery—Edmund's Oast Brewing Co.—and the relocation, new name and focus of the retail wine and beer store—Edmund's Oast Exchange. Patrons that attend the pop-ups on the tour can register-to-win dinner for two at Edmund's Oast and a tour at the brewery to redeem next time they visit Charleston. One lucky person will be selected to win the prize.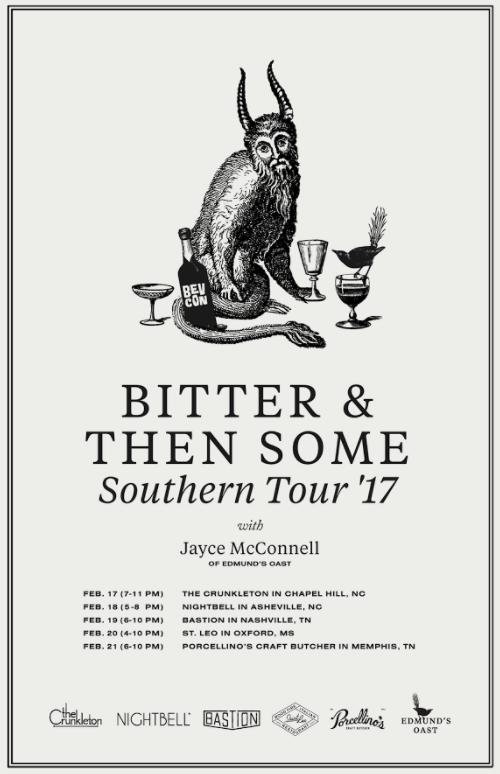 Jayce will also be partnering with BevCon™, an industry-only beverage conference held in Charleston August 20-22, to promote plans for 2017's event. Jayce serves on the national advisory board and was a founding member instrumental in creating the event. At each stop, beverage professionals can come and learn more about the event and register for a chance to win a free trip to Charleston to attend BevCon.
At each location, Jayce will be serving a special menu featuring some of his favorite cocktails from Edmund's Oast. Stops include:
Friday, February 17 from

7:00-11:00 p.m.

at The Crunkleton in Chapel Hill, NC

Saturday, February 18

from

5:00-8:00 p.m.

at Nightbell in Asheville, NC

Sunday, February 19

from

6:00-10:00 p.m.

at Bastion in Nashville, TN

Monday, February 20

from

4:00-10:00 p.m.

at Saint Leo in Oxford, MS

Tuesday, February 21

from

5:00-8:00 p.m.

at Porcellino's Craft Butcher in Memphis, TN
Most events are open to the public and guests can order off a special menu offered. For the finale, Porcellino's will be featuring small bites paired with cocktails for $75 per person.