Slow Food Ark of Taste 2017
December 2, 2017

-

December 10, 2017

Various
Event Navigation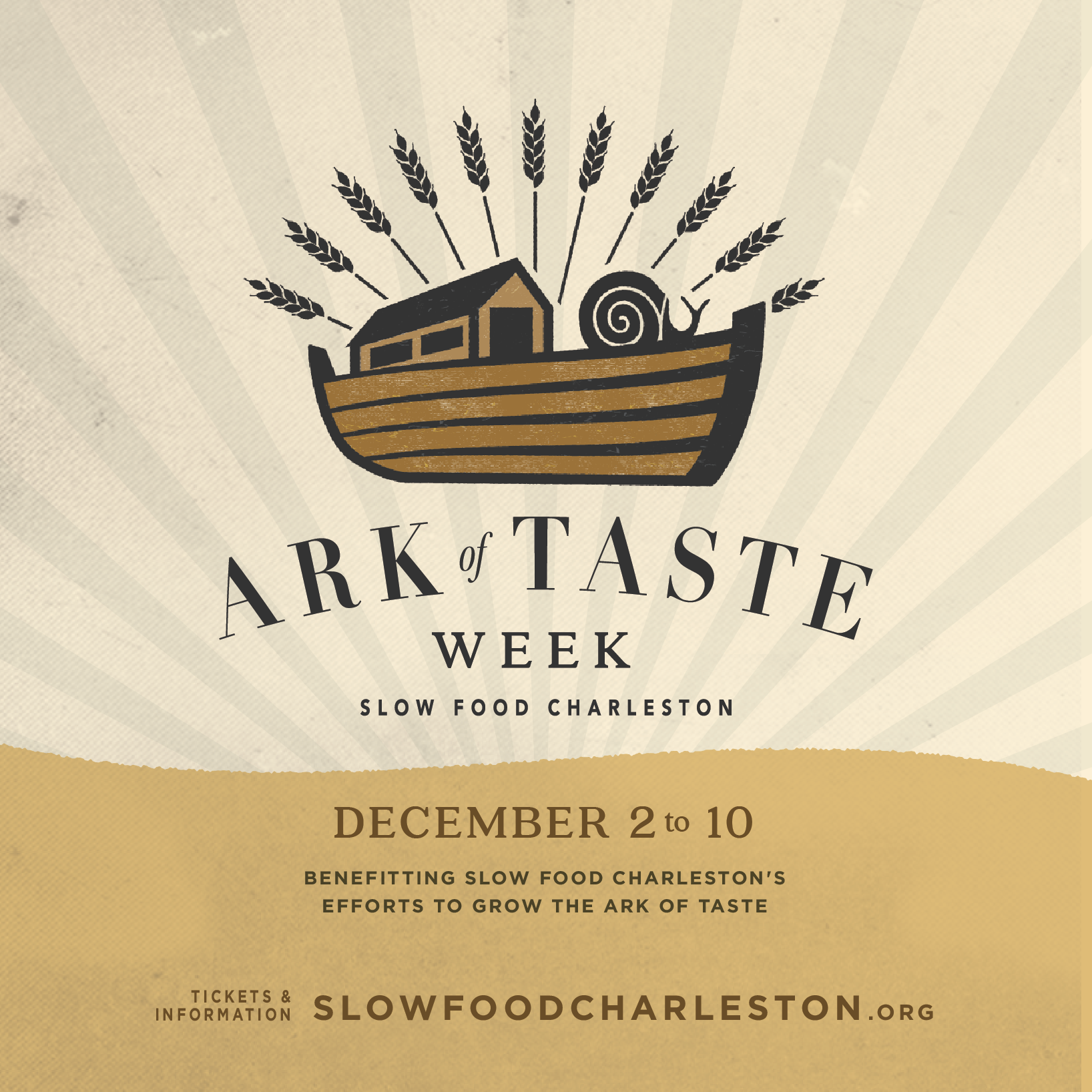 The 2017 Ark of Taste Celebration, annually recognizing distinguished ingredients facing extinction, expands to a full week and includes a varied program of events. The celebration, now in it's third year, aims to support the chapter's determination to grow the Ark of Taste, both agronomically and in cognizance. The 2017 nomination of the Lemon Cling Peach, supported by Dr. David Shields and farm partner for the project, Geechie Boy Mill's Greg Johnsman of Edisto Island, South Carolina, will lay the foundation for repatriation efforts of this once-favorited peach varietal. Establishing a new orchard is a significant and costly undertaking and Slow Food Charleston aims to underwrite the costs of this meaningful and delicious project.
To learn more about the Lemon Cling Peach, please see the nomination form, here.
The events for the inaugural Ark of Taste Week are as follows:
Saturday, December 2
MUSC Urban Farm Work & Learn: An introduction to The Ark of Taste
Get your hands dirty with the team of the MUSC Urban Farm and see the 2017 Slow Food USA Ark of Taste campaign kit being grown. This is a great family-friendly opportunity to get involved and learn more about the new partnership with the MUSC Office of Health Promotion to increase the visibility of heirloom crop production in a garden bed dedicated to growing Ark of Taste crops and throughout the Urban Farm.
Virgil Kaine Ginger Harvest with Spade & Clover, benefiting Slow Food Charleston
4:30-9pm, Spade and Clover Gardens, 3955 Betsy Kerrison Pkwy, Johns Island, SC 29455

Virgil Kaine Lowcountry Whiskey Co. will celebrate the year's final ginger harvest with thanks to farmer John Warren of Spade & Clover

A portion of proceeds will benefit Slow Food Charleston.

Tickets are on sale now, available here.
Monday, December 4
Weeklong fundraiser launch, cocktail and food crawl, and late-night Slow Sips Fundraiser
Monday, December 4 – Sunday, December 10

Slow Food Charleston aims to show that many of the Lowcountry's most popular ingredients already have a home on the Ark of Taste list. Carolina Gold Rice, Jimmy Red Corn, Sea island Red Peas, the 2016 addition of Seashore Black Rye, and many more pantry staples abound in the restaurants and bars of Charleston. A full list of listed ingredients for the southeast is found here or here.

We are asking restaurants to identify and champion an Ark of Taste ingredient that exists on, or can be added to, their food or beverage menus, and donate a portion of proceeds from the sale of that item to Slow Food Charleston.

A suggested donation amount of $1 per item sold will allow Slow Food to approximate how many people enjoyed items supported by the Ark of Taste.

The sponsorship and commitment form found here should be returned to info@slowfoodcharleston.org or the address as listed on the form by Monday, November 20 to be included in all promotional efforts, and the printed list of participating businesses
Cocktail and Food Crawl, and Slow Sips
To kick off the fundraiser, Slow Food Charleston will host a 'crawl' on Monday December 4. Crawlers will travel to downtown businesses and enjoy featured Ark of Taste cocktails and food items. The goal of the crawl is to engage the community and raise awareness on the Ark of Taste.

The crawl will be social-media oriented, so keep an eye on @slowfoodchs on Instagram and on our facebook page. As restaurants and bars sign up to participate in the fundraiser, the downtown crawl route will be mapped.

The crawl will conclude in a late-night Slow Sips gathering at HUSK Bar, for Ark of Taste sips and snacks.
Saturday, December 9
Slow Food South Carolina Luncheon and Panel Discussion: The Ark of Taste's place at the table and on the farm
12-2pm, Hosted by The Restoration Hotel's The Watch: Rooftop Kitchen and Spirits at 75 Wentworth St, 29401

Tickets are $40 and go live November 1, at slowfoodcharleston.org

The Restoration Hotel will host Slow Food leaders from across the state, along with guests, in a luncheon and panel discussion, from 12-2pm

Lunch will be prepared with Ark of Taste products grown at the MUSC Urban Farm and Geechie Boy and will feature Ark of Taste and Ark of Taste-worthy ingredients

The panel discussion, moderated by Dr. David Shields, the Ark of Taste Chair for the South, will include panelists and farmers Greg Johnsman of Geechie Boy Mill and Nat Bradford of Bradford Family Farm.
Sunday, December 10
Terra Madre Day
Slow Food's anniversary and annual day to celebrate diversity in food traditions and means of production
Third Annual Ark of Taste Celebration Dinner
230-5pm at Le Farfalle, 15 Beaufain St., 29401

Tickets are $150 and will be live on November 1 at slowfoodcharleston.org

Missy Robbins of Lilia and Mike Rojas of Urbani Truffles will join Le Farfalle Chef Michael Toscano for a midday supper
From 2:30-3 guests will enjoy a courtyard reception, greeted by cellist Helen Greenfield

at 3pm, attendees will move inside to enjoy a feast of traditional Roman dishes, prepared in celebration of Slow Food's anniversary, Terra Madre Day, which is celebrated annually on December 10. The 2017 Ark of Taste dinner, delightfully aligned with Terra Madre Day, will honor the ingredients and traditions of Italy, as the first protest in the name of Slow Food took place in Rome, and the organization's home is in Bra, Italy.

The dinner will conclude at 5pm with a sunset passeggiata, or leisurely stroll, to The Restoration Hotel to continue the evening's celebration at The Watch's rooftop.