70th Annual Festival of Houses & Gardens
March 16, 2017

-

April 22, 2017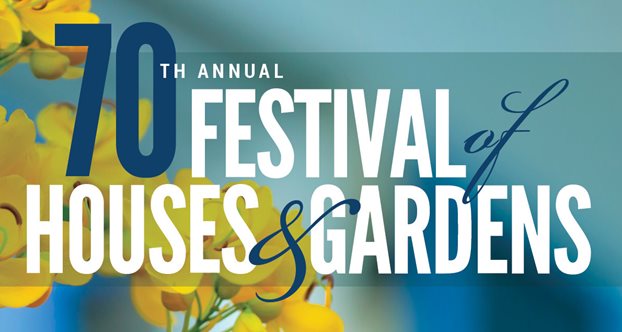 Historic Charleston Foundation (HCF) has announced the dates for its premier Festival of Houses and Gardens Tour, March 16 – April 22, 2017.  The upcoming festival, HCF's largest educational program, will mark the 70th anniversary of the premier event which raises money for the organization's preservation initiatives.
"For 70 years, Historic Charleston Foundation has been educating the public about the benefits of historic preservation through its annual spring festival," said Katharine S. Robinson, President and CEO.  "We are delighted to once again offer guests the opportunity to experience the best of Charleston's historic architecture and gardens through our spring program."
The Cassina Group, a Charleston-based real estate firm known for its creative and innovative approach, will be the Presenting Sponsor of the Festival as well as the Charleston Antiques Show, March 17-19, 2017, which will kick-off the 2017 Festival. Tickets go on sale Nov. 1.
Festival attendees will receive the virtual key to the city as they enjoy the rare opportunity to go inside approximately 130 private historic houses as well as distinctive gardens and notable properties. Through the 70-years-strong educational program, those who wonder what treasures lie behind Charleston's grand carved doors and exquisite wrought iron gates can begin exploring Charleston's history, architecture and gardens up close.
Festival guests enjoy more than a month of special events, luncheon lectures, tastings, concerts and more, including the hallmark house and gardens tours, all highlighting Charleston's rich history and culture:
House and Garden Tours: Each afternoon or evening walking tour is self-guided and features the opportunity to step inside outstanding historic properties in Charleston's Old & Historic District. Glorious Gardens tours focus exclusively on private gardens in the historic district.
Morning History Walks: Expert guides lead two-hour morning walking tours of Charleston's early neighborhoods, providing background for the Festival's house and garden tours.
Food for Thought Luncheons: Participants enjoy a casual lunch and an educational talk with topics ranging from history to horticulture.
Live Like a Local events: Savor local flavors during the Picnic & Oyster Roast, Lowcountry Feast, Mimosas at Middleton Place, Savor Sunday South of Broad, Sunday with a Side of Jazz and Circa 1886 Wine Tastings.
Musical Concerts: From Lowcountry spirituals to toe-tapping jazz to classical offerings, there is music for every taste, all offered in historic buildings as inspiring as the repertoire.
For festival tickets and information, go to HistoricCharleston.org/festival or call 843-722-3405.