The day has finally come! One of these people will be our next president. If that thought doesn't excite you, perhaps the idea of getting free stuff just for voting will! Here's where you can show off your "I Voted" sticker in Charleston and get rewarded with free swag (or where other cool election-related things are happening around town).
**On a serious note: please vote! It's important and it's your right as an American.**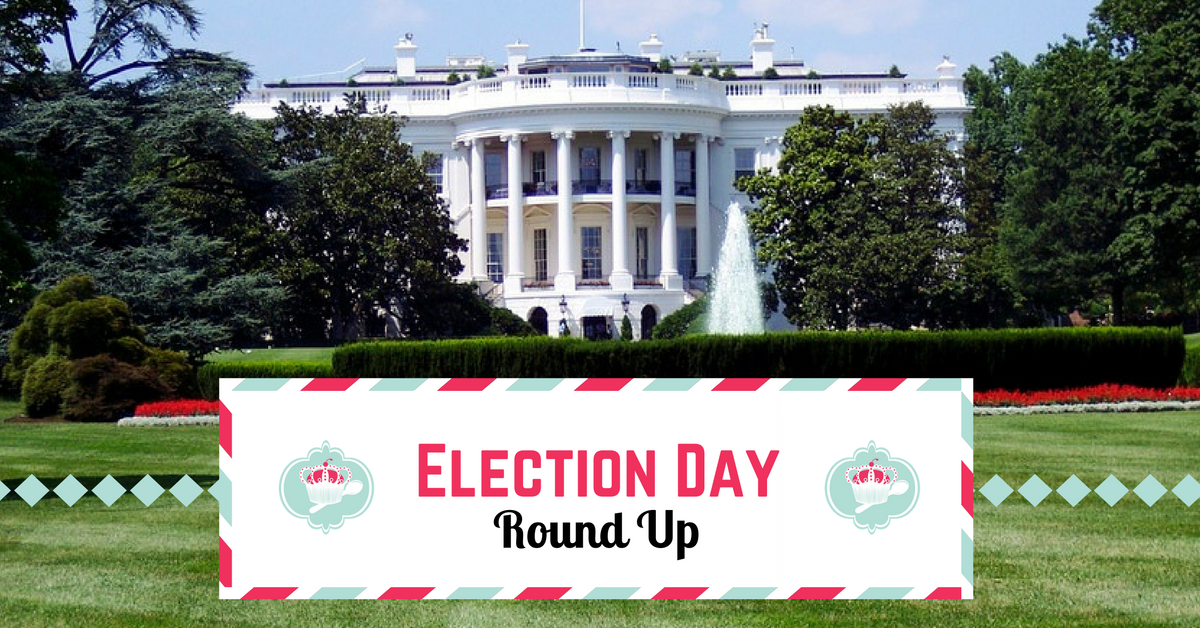 *Updated all day as I find more deals! Check back often for more freebies!* Last update: 11/8 4:19 pm
$12 'Merica Burger (gorgonzola, bacon, smoked tomato marmalade, and aioli)
Free Pretzel all day with "I VOTED" sticker
10% Off All Food Until Close (5pm)
For those that are looking to escape the craziness of the election; Burwells is hosting a BarCation (no sticker required).
Burwell's entire bar's food menu will be 1/2 off
Burwell's will be featuring their foreign adult beverages (featured all night including late night):

Dark & Stormy: Rum
Crown Royal: Canadian Whisky
Mexican Mule: Tequila
Moscow Mule: Vodka
Johnnie Walker: Scotch
Argentina: Malbec
Laurent Perrier: French Champagne
Ana Cava: Spanish Sparkling Wine
Prosecco: Italian Sparkling Wine
Bring your "I Voted" sticker to Happy Hour from 5-7pm for Taco Tuesday and receive a Plinko Chip!

#

electionday
Join Charleston Beer Works' Chef Jason Dupree and guest Chef Matty Priede of Band of Gypsy's Catering and Pop-Up Events for an Election Night to remember.
80 tickets are available for $30 each.
Enjoy live music starting at 8pm from Band of Gypsys.
Get ready for all-you-can-eat access to a Cuban style whole hog, empanadas, duck fried rice, cerviche and MORE!
Free Live election coverage on 2 big screens on Main stage. Doors open at 8 pm.
ON THE DECK: Darius Ruckus, 4:00-6:30pm, FREE!
Little ones can join in the fun by voting for their favorite King of Pops flavor at CML all day tomorrow
Parents wearing an "I Voted" sticker who bring their families to the Children's museum today will be entered to win a FREE one-year Family Membership.
Free personal pepperoni pizza by using coupon code #5253 or telling the cashier you voted
1/2 off pho all day (No sticker required)
Free Dessert with "I Voted" Sticker or voting stub!
$5 off orders over $20.16. Excludes lunch combos and happy hour deals. Show your "I voted" sticker to the server.
Free wine tasting and complimentary stemless wine glass
"Vote Champagne" finale party. Get specially-priced glasses of champagne starting at 4:30 pm (no sticker needed).
Free Chef's choice dessert
Get a medium drink for free by showing your "I Voted" sticker
"Erection Night…. it's a Pop-Up"
by Chef Kevin Getzewich

1st Course …. $10
Chawan Mushi. Crab. Peanut. Scallion.
2nd Course …. $12
Kimvhi Soup. Carolina Gold Rice. Chicken. Tofu.
3rd Course …. $5
Benne See Ice Cream

Please bring CASH for food!
1/2 off on a presidential donut with "I VOTED" sticker
Trump = Trumpkin = pumpkin doughnut
Clinton = Clemon = lemon doughnut
Show your "I Voted" sticker to get free access to the gym on Election Day
Free order of fried pickles with your "I Voted" sticker
$5 burgers (every Tuesday)
10% Off All Food All Day; Results on TV All Day Long
Show your "I VOTED" sticker and get a free donut!
$1 Modelos with your "I Voted" sticker, starting at 5pm
Will be broadcasting election results
Go on their website to "cast your vote for Marco's" and receive a voucher for a free pizza.
15% off entire order all day with "I VOTED" sticker
Free show featuring Susto starting at 9 pm sharp! (no sticker required)
25% off your meal, today only.
Special treat if you're wearing your "I Voted" sticker.
Live broadcast of election results
Free dessert with "I Voted" sticker
Free Chef's Choice Dessert with "I Voted" Sticker or voting stub!
Toast (all locations)
Free Chef's Choice Dessert
Receive $10 OFF gift card if you are wearing your "I voted today" sticker.
Must sign-up on the Yelp Event page (http://bit.ly/YelpBash) to be added to the guest list.
When the polls close, the party starts! Yelp's biggest event of 2016! Come celebrate America this election night and party like there's no tomorrow… because there might not be. Get ready for 5-star food from all over the lowcountry, patriotic potables, and more entertainment value than the current election season! ALL FOR FREE!
This event is open to everyone & the only requirements are that you must have/create a Yelp account (Real name and profile photo too), be 21+, and you must RSVP on the Yelp Event Page. http://bit.ly/YelpBash
Free childcare while parents go to vote. Click here for more info.
$8 red & blue drinks tonight.